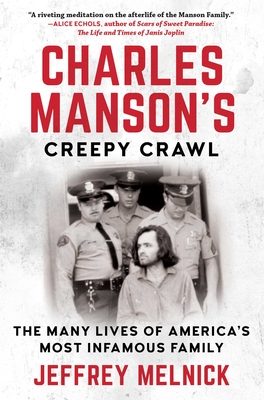 Charles Manson's Creepy Crawl
The Many Lives of America's Most Infamous Family
Paperback

* Individual store prices may vary.
Description
50 years after the notorious Tate-LaBianca murders, Charles Manson and the Manson Family continue to haunt and fascinate America. No crime or criminal has touched the social, political, or cultural life of America in the same way.

"Creepy crawling" was the Manson Family's practice of secretly entering someone's home, and without harming anyone, leaving only a trace of evidence that they had been there, some reminder that the sanctity of the private home had been breached.

Now, author Jeffrey Melnick reveals just how much the Family creepy crawled their way through Los Angeles in the sixties and then on through American social, political, and cultural life for fifty years, firmly lodging themselves in our minds. Even now, it is almost impossible to discuss the sixties, teenage runaways, sexuality, drugs, music, California, or even the concept of family without referencing Manson and his "girls."

Not another Charles Manson history, Charles Manson's Creepy Crawl explores how the Family weren't so much outsiders as emblematic of the Los Angeles counterculture freak scene, and how Manson worked to connect himself to the mainstream of the time. Ever since they spent two nights killing seven residents of Los Angeles—what we now know as the "Tate-LaBianca murders"—the Manson family has rarely slipped from the American radar for long.

From Emma Cline's The Girls to the TV show Aquarius, as well as two major films in 2019, including Quentin Tarantino's Once Upon a Time in Hollywood, the family continues to rivet America. What is it about Charles Manson and his family that captivates us still?

Author Jeffrey Melnick sets out to answer this question in this fascinating and compulsively readable cultural history of the Family and their influence from 1969 to the present. Previously published in hardcover under the title Creepy Crawling this paperback edition has a new epilogue.
Praise For Charles Manson's Creepy Crawl: The Many Lives of America's Most Infamous Family…
"Manson's web of contacts in the music world is explored in fascinating detail in the recent, updated edition of Charles Manson's Creepy Crawl: The Many Lives of America's Most Infamous Family, by Jeffrey Melnick, an American-studies professor at the University of Massachusetts Boston. He provides context for how the Family interacted with Hollywood's young élite, especially on the music scene, where even some stars considered him a contender. Neil Young, for one, thought that he was "great . . . unreal," and Young told the head of Warner Bros. Records that all Manson needed was a 'band like Dylan had on "Subterranean Homesick Blues."'" ?The New Yorker, contributed by Jim DeRogatis, music critic and host of Sound Opinions

"It's a fascinating book, forcing us to recognize something we might rather not think about: how and why we have kept Charles Manson and his followers alive in our minds, rather than consigning them to the dustbin of history."—Booklist

"A disturbing account of the many ways Charles Manson pervades American culture."—Publishers Weekly

"A capacious, witty, and insightful take on how and why we are still so fascinated by Charles Manson and his Family. Melnick is a keen reader of high and low artifacts, and he is wonderfully precise in tracing all the Manson-related references and ramifications from 1969 to the present. He has a gift for presenting complex ideas in savvy, compelling prose. A must read not just for Manson aficionados but for anyone interested in recent American pop culture."—Dana Spiotta, author of Innocents and Others

"Why is Charles Manson, the assassin of flower power, so impossible to bury? The answer according to Jeffrey Melnick is that the demon and his runaways carved their signatures into the very heart of a complicit counterculture. Riveting and unsettling, this book recalls another chilling classic: Thomas De Quincy's On Murder Considered as One of the Fine Arts." —Mike Davis, author of City of Quartz: Excavating the Future in Los Angeles

"Melnick retells the Manson saga not as true-crime investigation or psychological thriller, but as kaleidoscopic cultural history, unpacking how an indelibly American horror story has echoed down the years in our popular consciousness via books, films, and especially music. It's a fascinating book—and as unstable patriarchal white dudes of varying stripes continue to shape the national narrative, an inescapably timely one."—Will Hermes, author of Love Goes to Buildings on Fire: Five Years In New York That Changed Music Forever

"Jeffrey Melnick's Creepy Crawling is a compulsively-readable guide to the American fascination with the Manson Family. Expertly weaving psychology, sociology, history, and pop culture, Melnick's work covers everything from the Family's Freudian roots to its continued commodification, from Joan Didion to Nicki Minaj. We know the Manson Murders have been part of the cultural landscape for the past fifty years, but Melnick shows us why. The book is a must-read not only for those fascinated by the Manson Family, but anyone fascinated by America."—Allison Umminger, author of the highly acclaimed Manson novel American Girls

"Creepy Crawling: Charles Manson and the Many Lives of America's Most Infamous Family, [is] a contentious, revisionist, often obnoxious, but thorough and undeniably important cultural-historical study of the era's other major American cult leader."—Devin McKinney, author of Magic Circles: The Beatles in Dream and History
 
Arcade, 9781948924764, 456pp.
Publication Date: July 23, 2019
About the Author
Jeff Melnick has been teaching and writing about American cultural history for some 25 years. His books on Black-Jewish relations, 9/11, immigration, and popular culture have been widely reviewed and cited often in academic journals and mainstream journalism. His first book, A Right to Sing the Blues: African Americans, Jews, and American Popular Song was given a Booklist Editor's Choice Award for 1999 and his most recent book, 9/11 Culture: American Under Construction was translated into Arabic soon after its initial publication. Melnick currently serves as Graduate Program Director for American Studies at University of Massachusetts Boston.
or
Not Currently Available for Direct Purchase