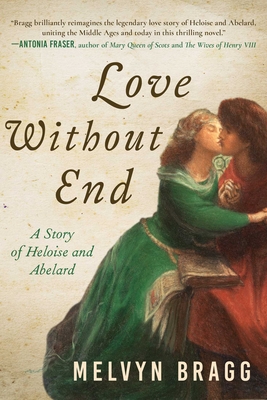 Love Without End
A Story of Heloise and Abelard
Hardcover

* Individual store prices may vary.
Description
The Timeless Romance of Heloise and Abelard Is Given New Life in this Poignant Novel by an Award-Winning Author, for Fans of Philippa Gregory and Elizabeth Chadwick

The tale Heloise and Abelard has captivated the attentions of romantics since the twelfth century. Heloise was a woman beyond her time: educated, fierce, and unafraid to be herself. When Peter Abelard, a radical philosopher determined to reform the archaic practices of the Church from within, becomes her private tutor, the attraction is overwhelming. Their passionate love affair soon becomes dangerous, as enemies and opportunists hide in every shadow.

In the twenty-first century, Arthur, a historian and author, roams the city of Paris to step into the shoes of Peter Abelard, to understand his true reasoning for abandoning Heloise. Needing to discuss his hypothesis and hoping to reconcile, Arthur invites his estranged daughter, Julia, to join him in the city of lights. But Julia could care less about lovers long dead; she is on a mission to discover the truth about her parents, and why her father left.

Told in alternating narratives that transcend centuries, Love Without End delivers an unflinching look into relationships, fractured and whole, to discover the true nature of love in all its forms.
Praise For Love Without End: A Story of Heloise and Abelard…
Praise for Love Without End

"Bragg brilliantly re-imagines the legendary love story of Heloise and Abelard, uniting the middle ages and today in this thrilling novel."—Antonia Fraser, author of Mary Queen of Scots, and The Wives of Henry VIII

"Best thing [Melvyn Bragg has] done . . . Tremendously passionate. Sexy and thoughtful." —Ken Follett, New York Times bestselling author of Edge of Eternity and Winter of the World

"Melvyn Bragg brings a fascinated attention to the moral complexities of a love story we all thought we knew, but perhaps did not understand well enough.  His compassion for Abelard and Heloise makes brilliantly real and present to us their anguished journey from erotic excess towards the mystical sublime."—Rose Tremain, award-winning author of Merivel: A Man of His Time

"A tour de force – a moving, poignant, compelling tale, wonderfully told. I have never read such true and compellingly depicted accounts of sexual desire and encounter, and Paris, both medieval and modern, comes vividly before one."—A.C. Grayling, philosopher and author of The Age of Genius and The God Argument

"Although I was broadly aware of the story of Abelard and Heloise, I have never really delved into it. In Love Without End, Melvyn Bragg has shed fresh light on a poignant, obsessive, and magnificent love affair that has been an enduring fascination for readers throughout the centuries. It is Romeo and Juliet before Romeo and Juliet, but it's real, and the passion has such cerebral and emotional depth that it is all encompassing and beyond time. Melvyn Bragg's novel is keenly observed, and the dual timeline brings modern analysis and perception to the story of these medieval lovers, making it new and fresh for a contemporary audience." —Elizabeth Chadwick, New York Times bestselling author of Templar Silks and The Greatest Knight

"A tour de force." —Joanna Hickson, author of The Agincourt Bride and The Lady of the Ravens

"[A] psychologically penetrating and touching novel. . . .The historical portions, steeped in the philosophies of the age, take readers deep into the characters' minds as the pair fall in love, endure Heloise's uncle's wrath and betrayal, and live separate yet emotionally connected lives thereafter." —Booklist

"Bragg has mastered his sources, chiefly the letters of Abelard and Heloise and Abelard's autobiographical Historia Calamitaturn. By the pen of Arthur the novelist, Bragg with his own flair and perceptive imagination tells their story . . . Bragg's ability to live inside the minds of these two mighty philosophical and theological intellectuals. He understands their agonies, their manipulation . . . and persecution . . . Bragg writes his version of this life-long love with ease and confidence. It is a pleasure to read; and to be reminded of Chaucer's fastidious Prioress whose shining gold brooch declares: 'Amor vincit omnia.'"—Brian Martin, Spectator

"A fictionalised account of legendary star-crossed lovers Heloise and Abelard unfolds in tandem with the struggles of its author, an academic named Arthur . . . it all comes together in a rich tapestry of devotion in its many guises."—The Guardian

"A modern take on the story of Heloise and Abelard . . . a medieval mix of explosive sex with a cerebral side."—The Times

"Bragg's account of the passionate and painful love affair between the twelfth-century radical theologian Peter Abelard and the brilliant young convent-educated Heloise springs magnificently to life. . . . Thrilling. . . . [A] very readable novel." —The Tablet

"[Bragg's] efforts to get inside the medieval mind-set make this more than just another historical romance about star-crossed lovers. Those who like their fiction firmly based on the facts, and mixed with a generous dollop of philosophy, will be well satisfied."—Church Times

""A scholar investigates the medieval passion of Heloise and Abelard and gleans insight into his own romantic woes in the latest by British broadcaster and author Bragg." —Kirkus
Arcade, 9781948924801, 336pp.
Publication Date: November 5, 2019
About the Author
Melvyn Bragg is a writer and broadcaster and the author of numerous novels, including the trilogy The Soldier's Return, A Son of War, and Crossing the Lines, published by Arcade. He has won the Time/Life Silver Pen Award, the John Llewellyn Rhys Prize, the WHS Smith Literary Award, and has been longlisted for the Man Booker Prize twice. He has also written several works of non‑fiction, including The Book of Books about the King James Bible, and The Adventures of English, also published by Arcade. He lives in London and Cumbria.
or
Not Currently Available for Direct Purchase