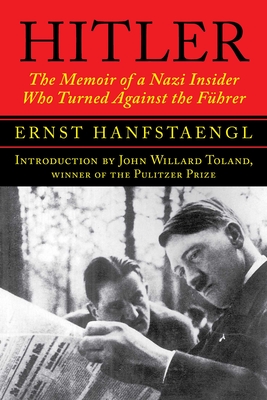 Hitler
The Memoir of a Nazi Insider Who Turned Against the Führer
Paperback

* Individual store prices may vary.
Other Editions of This Title:
Paperback (8/1/2011)
Description
An In-Depth Look into the Inner Workings of the Third Reich as Told by Hitler's Foreign Press Secretary

Of American and German parentage, Ernst Hanfstaengl graduated from Harvard and ran the family business in New York for a dozen years before returning to Germany in 1921. By chance he heard a then little-known Adolf Hitler speaking in a Munich beer hall and, mesmerized by his extraordinary oratorical power, was convinced the man would some day come to power. As Hitler's fanatical theories and ideas hardened, however, he surrounded himself with rabid extremists such as Goering, Hess, and Goebbels, and Hanfstaengl became estranged from him.

But with the Nazi's major unexpected political triumph in 1930, Hitler became a national figure, and he invited Hanfstaengl to be his foreign press secretary. It is from this unique insider's position that the author provides a vivid, intimate view of Hitler—with his neuroses, repressions, and growing megalomania—over the next several years. In 1937, four years after Hitler came to power, relations between Hanfstaengl and the Nazis had deteriorated to such a degree that he was forced to flee for his life, escaping to Switzerland. Here is a portrait of Hitler as you've rarely seen him.
Praise For Hitler: The Memoir of a Nazi Insider Who Turned Against the Führer…
"The revelations in . . . Hanfstaengl's classic memoir will enrich the reader's understanding of Hitler, the twentieth-century Napoleon. . . . With all his quirks, [Hanfstaengl] was one of the few who ever stood up to the Führer and then lived to write about it in fascinating detail." —John Toland, Pulitzer Prize-winning author of Adolph Hitler: The Definitive Biography and The Rising Sun: The Decline and Fall of the Japanese Empire, from the "Introduction"
Arcade, 9781948924887, 312pp.
Publication Date: May 5, 2020
About the Author
Ernst Hanfstaengl was born in 1887 to German and American parents. He was educated at Harvard, but eventually moved to Germany, where he met a young Hitler at the very beginning of his political rise. After turning down Hitler's invitation to continue as his foreign press secretary, he returned to the United States, where he worked with the American government against the Nazi regime. He died in 1975.

John Willard Toland was an American author and historian best known for his Adolph Hitler: The Definitive Biography and The Rising Sun: The Decline and Fall of the Japanese Empire 1936-1945, for which he won the Pulitzer Prize. He died in 2004.