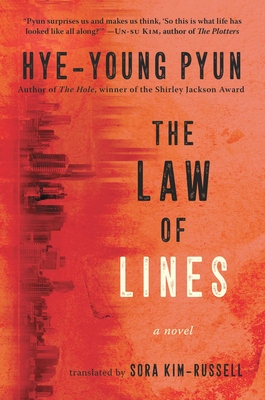 The Law of Lines
A Novel
Hardcover

* Individual store prices may vary.
Other Editions of This Title:
Compact Disc (10/20/2020)
MP3 CD (10/20/2020)
Description
From the award-winning author of The Hole, a "Simmering" (New York Times Book Review) and "Compelling" (Wall Street Journal ) thriller—"A mystery masterpiece . . . Hye-young Pyun at her best" (Books & Bao), named a "Best International Crime Novel of 2020" (CrimeReads) and selected as one of "Our 65 Favorite Books of the Year" (LitHub)

The Law of Lines follows the parallel stories of two young women whose lives are upended by sudden loss. When Se-oh, a recluse still living with her father, returns from an errand to find their house in flames, wrecked by a gas explosion, she is forced back into the world she had tried to escape. The detective investigating the incident tells her that her father caused the explosion to kill himself because of overwhelming debt she knew nothing about, but Se-oh suspects foul play by an aggressive debt collector and sets out on her own investigation, seeking vengeance.

Ki-jeong, a beleaguered high school teacher, receives a phone call from the police saying that the body of her younger half-sister has just been found. Her sister was a college student she had grown distant from. Though her death, by drowning, is considered a suicide by the police, that doesn't satisfy Ki-jeong, and she goes to her sister's university to find out what happened. Her sister's cell phone reveals a thicket of lies and links to a company that lures students into a virtual pyramid scheme, preying on them and their relationships. One of the contacts in the call log is Se-oh.

Like Hye-young Pyun's Shirley Jackson Award–winning novel The Hole, The Law of Lines an immersive thriller that explores the edges of criminality in ordinary lives, the unseen forces that shape us, and grief and debt.
Praise For The Law of Lines: A Novel…
A "Best International Crime Novel of 2020" (CrimeReads) and One of "Our 65 Favorite Books of the Year" (LitHub)

"[A] simmering thriller."—The New York Times Book Review

"[A] compelling ­existential thriller."—Wall Street Journal

"This one is pure, hard-scrabble noir . . . A harrowing and elegiac portrait of a vast and alienated cityscape, populated by those who would do anything to keep themselves and their families from slipping under."—LitHub, "Our 65 Favorite Books of the Year"

"The Law of Lines is a mystery masterpiece of two interwoven and tragic narratives drawn along by power, fear, and corruption. Hye-young Pyun at her best."—Books & Bao

"Definitely on my list."―Paula Woods, Los Angeles Times, "Five Authors of Korean Thrillers You Should Be Reading"

"This is one of those books that leaves you staring into nothing, thinking, 'Oh, the humanity. . . .' [A] cat-and-mouse thriller of desperate people on the edge of ruin . . . full of love and loss, betrayal and sacrifice, exploitation and kindness."—CrimeReads, "The Best Books of 2020 (So Far)"

"To read this book is to be given a code to help decipher this indecipherable world. . . . The unexpected loss of an under-appreciated father and a misunderstood half-sister, their deaths wrapped in suspicion, brings the two protagonists into each other's paths. Is their meeting a nightmare? Or does it bring hope? After making their way through this irrational world that the author has thrown us into, the reader will find themselves on surer ground."―Kyung-sook Shin, international bestselling author of Please Look After Mom

"Pyun slices off a piece of the most everyday layer of life, places it on a slide, and reveals to us the cellular division of emotions that we've never seen before. She surprises us and makes us think, 'So this is what life has looked like all along?'"―Un-su Kim, author of The Plotters

"A compelling thriller that uses a familiar story frame to interrogate the way grief shapes our lives."―Cyn's Workshop

"Slowly, Se-oh's and Ki-jeong's investigations come together as they uncover a cultish pyramid scheme with links to both of their pasts. Readers' groups and fans of literary suspense will find appeal in this dark meditation on the destructive power of self-deception."―Booklist

"Another first-class novel from the South Korean writer . . . A very well-told tale, with twists and unexpected turns."—The Modern Novel Blog

"An enigmatic narration that edges up to morality and criminality . . . You will find yourself consumed by how these characters grapple with their losses and the weight and gloom of their everyday lives."—Cracking the Spine

Praise for City of Ash and Red
AN NPR 2018 GREAT READ 
A BARNES & NOBLE BEST HORROR BOOK OF 2018

"City of Ash And Red will pull you into its nightmare. . . . I've taken to calling it High-Rise if J.G. Ballard took on a whole neighborhood instead of just one luxury apartment building. It's a good book and it's a nasty one. . . . Whether you want to believe this is a grim look at the human condition or an exciting bit of weird fiction, it's worth a read."―NPR

"Hye-Young Pyun creates a dark allegory of humankind in this apocalyptic novel. . . . A horrific nightmare that won't soon be forgotten."—Shelf Awareness

"Another gruesome masterpiece."―Crime Reads, "Daily Thrill"

"This book is not for everyone, but then neither was The Vegetarian, or Confessions, or The Cat in the Coffin. It's also not easily classified: Horror? Dystopian? Thriller? Doesn't matter. If it's to your taste, this book will keep you reading long past any previously established threshold of morbidity."—LitHub

"Devoutly stark and in tune with the pangs of urban alienation . . . Pyun offers her work to an international audience on her own terms, by speaking directly to the state of alienation made familiar to much of the world by globalization. . . . The amnesiac protagonist is left unnamed because he is us."—Jae Won Chung, Boston Review

"An apocalyptic tale on the human condition, rife with Kafkaesque paranoia and brutal isolation."—This Is Horror

"Haunting."—World Literature Today

"Dark and harrowing . . . [Pyun is a] master at maintaining tension, even in the most everyday scenes. Hair-raising passages abound. . . . Sora Kim-Russell has done a particularly good job of getting the voice of the narrator just right."—Wasafiri

"A novel that could easily have been written by Kafka himself. . . . And for those unfamiliar with the Kafkaesque, know that if you feel a familiar tug at your heart when you read of a man lost and frightened, even as an adult, wondering how his life became what it is, and why he cannot find help where he expects it to be, know that you will find company in this story and with its readers."―Books and Bao

"A daring post-apocalyptic novel from a powerful rising literary voice. . . . A highly hypnotic tale that will draw you in and hit you where it hurts. Pyun's novel The HoleI was a masterclass and this one is no different."―Signal Horizon

"Kafkaesque . . . Those with a taste for creepy suspense will be rewarded."―Publishers Weekly

"Kim-Russell's ability to replicate Pyun's stifling terror repeats here . . . Stripped of identity, language, and ethics, the cost of survival for Pyun's protagonist proves to be his very humanity. A slap-in-the-face parable of the perils of society failures. Pyun's suffocating tale reveals a future all too possible and real."―Booklist

"A story that strikes fear and uneasiness into the reader."―Evilcyclist's Blog

"A wonderfully malevolent, Kafkaesque tale of a man who is completely and utterly lost . . . Hye Young-Pyun's skill is to make you think that, just when it could not get worse for him, it does."―The Modern Novel

"Chilling . . . The hits keep coming."―A Bookish Type

"Pyun's narration creates a wonderful sense of desperation in her central character, sending him scrambling towards any attempt at salvation even as his life falls to pieces . . . . It's that feeling of paranoia as things continue to dissolve within the narrator's mind that truly sets the book apart."—B&N Sci-Fi & Fantasy blog, "Best Horror Books of 2018"

"Disturbing, but impressive."—Complete Review

"In this tautly knit novel by a brilliant stylist, a world of darkness you'd never want to encounter in real life unfolds mysteriously before your eyes. Soon you'll find yourself gripped by the fear that what the protagonist experiences could happen to you. Yet, captivated by the enthralling writing and brutal imaginings, you won't be able to put the book down until you've experienced its darkness to the very end."―Kyung-sook Shin, Man Asian Prize–winning author of Please Look After Mom and The Court Dancer

"In the tradition of Kafka, Camus, and Murakami, Pyun takes us on an unflinching, intensely visceral journey through the dark and nightmarish underbelly of our mundane world."―Heinz Insu Fenkl, author of the PEN/Hemingway Award finalist Memories of My Ghost Brother

"As a story of one man's struggle to maintain sanity against the odds, it's. . . consistently gripping."―Kirkus Reviews

"A story of loss so affecting that it borders on existential vertigo."―Sunyoung Park, associate professor of East Asian Languages and Cultures and Gender Studies, USC

"City of Ash and Red is a tale of survival and ruin that leaves no room for even a single drop of comfort to seep in. Pyun builds an airtight masterpiece of agony and mystery with her masterfully crafted sentences, and she colors it with the ash-gray of ruin and the fiery red of life."—Korea Economic Daily

"A story of modern humanity's survival and downfall as told through the tale of a man who finds his life ruined for reasons he doesn't understand, in a city rife with disease, soiled by trash, and teeming with rats. . . . [with narrative] tension like a discordant note that jangles the nerves to keep the reader hooked all the way to the last page."—Munhwa Ilbo

"Hye-young Pyun has made a name for herself in literature with her exquisite depictions of a world of strange and grotesque imagination. . . . In City of Ash and Red, the central motifs are contagion and rats. . . . Though the world she describes is a fictional one, the story of the extinction and denial of a weak man who must persevere within that world feels all too real. Perhaps this unpleasant sense of reality comes from the realization that our own world is stranger than the monstrous one that Pyun invents, that we ourselves are no stronger than rats. But what can we do? Just as the powerless protagonist must somehow survive in the unknown space of Country C, we too have no choice but to persevere no matter what life throws at us."—Kukmin Ilbo
Arcade, 9781948924962, 264pp.
Publication Date: May 5, 2020
About the Author
Hye-young Pyun was born in 1972. She made her literary debut in Korean in 2000 when she won Seoul Shinmun's annual New Writer's Contest with her short story "Shaking Off Dew." She has gone on to publish four short story collections and five novels. She has received several of Korea's most prestigious literary awards, including the Dong-in Literary Award in 2011, the Yi-sang Literary Award in 2014, and the Hyundae Munhak Award in 2015. She has published short stories in The New Yorker, Harper's Magazine, and Words Without Borders. City of Ash and Red was named Book of the Year when it was published in Poland, and it has been licensed to France, Turkey, China, and Vietnam as well. Her novel The Hole is a finalist for the Shirley Jackson Award. She lives in Seoul, Korea.

Sora Kim-Russell is a literary translator based in Seoul. Her translations include Hwang Sok-yong's Princess Bari, Suah Bae's Nowhere to be Found, and Kyung-sook Shin's I'll Be Right There. She teaches at Ewha Womans University and the Literary Translation Institute of Korea. Her full list of publications can be found at sorakimrussell.com.