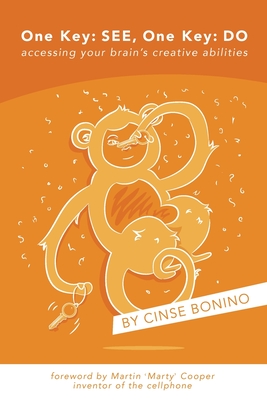 One Key
See, One Key: Do: accessing your brain's creative abilities
Paperback

* Individual store prices may vary.
Description
With a foreword by Martin Cooper - inventor of the cellphone, this book, written by former professor of Creativity and learning specialist Cinse Bonino, explains how to improve your ability to be creative in useful and productive ways. Discover how to be creative on purpose, not just through happy accidents or in mysterious eureka moments. One Key: SEE, One Key: DO presents learning principles, creative methods, and tips for being intentionally aware that can help unlock your creative potential and let loose your inner creative genius. Learn how to sift through creative ideas and choices in a faster and more conceptually focused manner whether you are a student, a teacher, a stay at home parent, or a creative, business, or scientific professional.
Go to: http: //seechoosedo.com/sneak-peek-one-key-see-one-key-do for a sneak peek inside.
"One Key: SEE, One Key: DO is, in itself, a masterpiece of creativity. Whether you are learning to be more creative or teaching others, reading this fine book will open doors you never knew existed." Martin 'Marty' Cooper - inventor of the cellphone
Onion River Press, 9781949066166, 200pp.
Publication Date: September 19, 2019