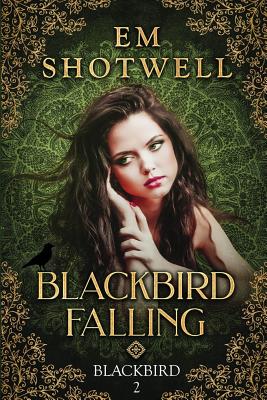 Blackbird Falling (Paperback)
City Owl Press, 9781949090116, 290pp.
Publication Date: October 16, 2018
* Individual store prices may vary.
Description
Meet Delia. Gifted. Magical. Broken.
Hell hath no fury like Delia Caibre--Gifted single mom with the power to make people love her, and a chip on her shoulder the size of the Mississippi.
When last summer left her broken by a monster, and abandoned by the man she trusted, Delia pulled herself up and vowed to never let anyone hurt her, or those she loves, again. So when Thomas Richard shows up, begging forgiveness and flashing his hundred-watt-smile, Delia lets him know that it will take more than dimples and promises to win her back.
Besides, raising her daughter, Genevieve--whose Gift is rare and stronger than anyone in the magical Caibre family--leaves little room for things like dating. But Thomas is persistent. And cute...and it would be nice to feel carefree and nineteen.
Until a masked-man from her past wields a Curse that leaves Delia's beloved sister on her deathbed, and makes off with Genevieve. It will take the most powerful in the Caibre family to put things right. But bringing her broken family together may prove impossible, even if not doing so means their destruction.
It's unbelievable when you get dropped into an Em Shotwell world. As a writer myself, I must tell you that this is one of the biggest compliments I can give." - Award-Winning Author, Randi Perrin ★★★★★
AUTHOR INTERVIEW
Q: Why do you write?
A: I write for lots of reasons: To make sense of emotions. For fun. To stave away boredom. To share a piece of myself with others. To prove that I can. But mostly, because there is a thrill in typing The End that is unlike any other.
Q: What books do you write?
A: I write across different genres, but there is a common theme of sisterhood with currents of magic that is dark around the edges. All of my writing has a Southern Gothic flavor--no matter if it is romance or women's fiction or contemporary fantasy. I also love creating complicated relationships. Sometimes it is between lovers. Sometimes it is between family members. Sometimes between friends.
BLACKBIRD SUMMER
THE CHANS (short story)
FORGET ME NOT (novella)
BLACKBIRD SUMMER (book 1)
BLACKBIRD FALLING (book 2)
Q: Why should readers pick up your books?
A: If you like strong characters who save themselves, complicated family dynamics, with romance thrown in for good measure (okay- the romance is one of my favorite parts ) then you should check out my books. If you want a bit of love, a bit of mystery, a bit of magic, then you will adore this series.
Be sure to scroll up and hit that BUY NOW button to be carried away into a world of magic, intrigue, romance, and a heap of southern charm