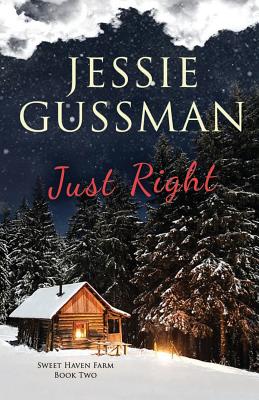 Just Right (Sweet Haven Farm #2) (Paperback)
City Owl Press, 9781949090154, 232pp.
Publication Date: November 6, 2018
* Individual store prices may vary.
Description
Sometimes a match that's all wrong, turns out to be just right.
While waiting to audition for a rare tubist seat opening, Avery Williams intends to cheer up her cancer ridden neighbor. She plans a throwback Christmas party in the barn where the sick woman got engaged forty years ago. It will be the highlight of the year, unless the building gets destroyed first.
In town for a short while to help his sick mother, Gator Franks expects to grab a side job and make some quick cash to help pay her hospital bills. Unfortunately, he has to get past the ugliest cat he has ever seen, which happens to be attached to a little blonde with sparkling pink fingernails, a city-girl attitude, and a fixation on saving the barn he just contracted to tear down.
Slowly, using simple words, Avery explains to the uncouth mountain man--the one with the ferocious, tuba-player-eating dogs--that she can't have a party in the barn if he bulldozes it first
When circumstances force them to work together, it's a race to see who will win first, and if they'll give in to the growing feelings between them.
"Jessie Gussman creates believable characters that you will fall in love with and root for till the very end." - Emily Camp, Author of Running Back
AUTHOR INTERVIEW
Q: Why do you write?
A: I was not on the school newspaper team, but because my mother was the advisor for it, when someone didn't turn in their assigned article, I often got selected as a volunteer to fill that spot. The school administrators liked to see articles about the aquaculture project the district had gotten a grant for, but everyone hated writing about the boring, smelly fish. One February, the assigned student went AWOL and I sat in my last period study hall trying to figure out how I could combine tilapia and Valentine's day into an article that would make my mother happy. The resulting article, which started off with a line that included, "Could there be love lurking beneath the murky depths?" won an award from the county paper, and ran on the front page of the school newspaper. I sat in the school cafeteria and watched people read my article and laugh. It was a great feeling, not winning the award or having my article lead, but because I had made people smile. That's why I write.
Q: What books do you write?
A: I write clean and wholesome contemporary romance with humor set in small towns and rural areas. I'm back on the straight and narrow from my wild high school days; no more fish erotica. The reading order for my series follows below.
SWEET HAVEN FARM
HARVEST MOON HOMECOMING (novella)
BETTER TOGETHER (book 1)
JUST RIGHT (book 2)
Q: Why should readers pick up your books?
A: You'll get all the feel-good tingles of a great love story with no graphic sex, swearing or violence. You'll laugh along with relatable heroines and hunky heroes as they weather life's storms and fall in love. I enjoy throwing in some fun science, history and local, rural trivia (Did you know that you can hold an egg in the palm of your hand and squeeze as hard as you can and it won't crack?) so you might learn something. I hope my books are uplifting and encouraging. You'll laugh, maybe cry, but you'll finish the book with a great feeling of satisfaction. To quote St. Paul, "Love never fails."
Be sure to scroll up and hit that BUY NOW button to be swept away into a world of love, laughs, and of course, romance