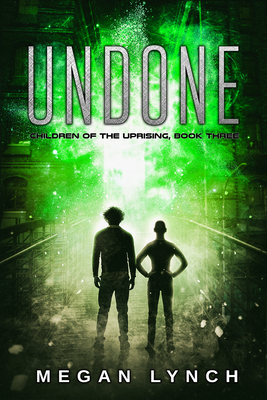 Undone (Paperback)
City Owl Press, 9781949090246, 210pp.
Publication Date: January 20, 2019
* Individual store prices may vary.
Description
Voyage into the World of the Unregistered.
When Their Home is in Danger, Will The Plan be Undone?
The liberation of their homeland depends on Bristol, Samara, Denver, and Jude. Each has a unique role to play, but the same mission. Yet, when the first phase of their plan is botched, the political climate of their new country turns on the little assembly of American refugees and forces them back into the shadows.
Now, in a race against the clock, they must come together to save those they love back home and find their place in a new world. Will they be able to save their homes, their freedom, and their lives?
Suspenseful, romantic, and awash in the spirit of social justice, the conclusion to the Children of the Uprising series has arrived.
"Lynch's exceptional near-future totalitarian nightmare of obedience and forced sterilization, all major individual decisions are removed. Four central characters in an unnamed city resent their repressive lives...Their lives intertwine in Lynch's scant but complex book, which packs in scathing commentaries on police brutality, crime prevention, population control, classism, and state-sponsored murder." - PUBLISHER'S WEEKLY ★★★★★
AUTHOR INTERVIEW
Q: Why do you write?
A: Writing is a compulsive behavior of mine. I started filling journals with observations, stories poems, lists, and quotes throughout my childhood and just never stopped. I've had a blog ever since my family got a computer. I'd always wanted to write novels, but up until recently, I lacked the discipline. Now that I've found a process that works for me, I write novels because it's what lights me up; it fulfills me.
Q: What do you write?
A: Right now, I write fiction with speculative elements. Real life can also be bizarre and thrilling, but I really enjoy playing with science and technology, magic, and time travel. Below is the reading order for my current series.
CHILDREN OF THE UPRISING
Unregistered (book 1)
Unafraid (book 2)
Undone (book 3)
Q: Why should readers pick up your books?
A: Readers are on my mind the entire time I'm writing. I try to be thoughtful enough to craft the experience that a reader will have when they enter the world of my novel. I'm always proud to say that I write commercial fiction, because it means my stories are created with the reader in mind.
Be sure to scroll up and hit that BUY NOW button to journey into a world of science fiction, adventure, and the unregistered