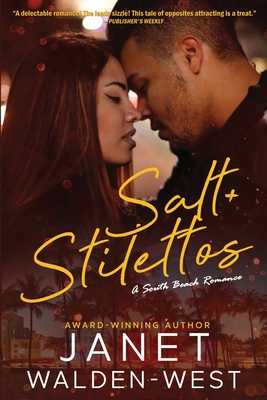 Salt + Stilettos
Paperback

* Individual store prices may vary.
Description
Trading her red-dirt roots for the title of Miami's go-to image consultant, Brett Fontaine refuses to let anything jeopardize her new life.
...Not an influential client-turned-stalker who's up for parole...
...Not post-kidnapping panic attacks...
...And certainly not the stubborn, attention-phobic chef with the tempting tataus she's been challenged to transform into a celeb in ninety days.
Will Te'o can almost taste the dream he sacrificed American Samoa, culture, and cherished family ties for--opening a four-star restaurant in the most cut-throat culinary location in North America.
Unfortunately, that requires navigating its equally ruthless social scene.
When his first public performance ends in a social media spectacle, his only option is turning to the stiletto-wearing nemesis who has invaded his kitchen.
Neither expected to share anything but barbs, yet somewhere between accidentally bonding over comfort food and office-wrecking sex, they're named South Beach's hottest pairing
Until Brett's stalker engineers an image-shattering reveal and the fallout trashes her reputation. She may be going down, but she's not taking Will's dreams with her.
Now Will is pulling out all his new skills and cooking up a last-ditch event. Will it prove to Brett that relying on the right person makes for the perfect recipe? Or will he be left heartbroken in the spotlight?
If you like Kristen Callihan, Nicole Snow, Negeen Papehn, or Penelope Ward, you'll love this spicy romance with a dash of sultry, a pinch of intrigue, and a cup full of fun
"Walden-West debuts with a delectable romance between a Miami image consultant and the rough-around-the-edges client she must polish before the opening of his South Beach restaurant...While the sexual tension between the leads sizzles from the get go, it's the show of mutual support and respect that will make readers swoon." -- Publisher's Weekly
City Owl Press, 9781949090826, 308pp.
Publication Date: April 7, 2020