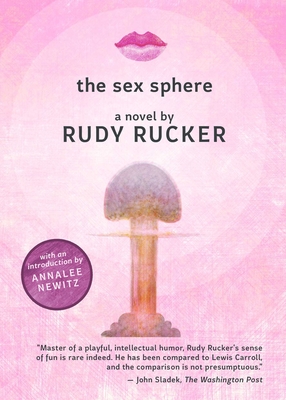 The Sex Sphere
Paperback

* Individual store prices may vary.
Description
A-bomb + a slacker prof + a sexy hypersphere = cyberpunk extravaganza in this outrageous, comic, and oddly erotic tale of true love and nuclear terrorism from Rudy Rucker.
 
When Alwin, a disaffected young physicist, takes a vacation in Florence with his wife Sybil and finds himself kidnapped by terrorists, he is soon wrapped up in a potentially world-changing—and utterly bizarre—plot.

It's not just that the terrorists are building an atomic bomb, which they want Alwin to help with, and it's not just that he is desperately attracted to one of his captors. It's that they have trapped a weird, four-dimensional creature of hypermatter who happens to resemble, well, a spherical naked woman. And who absolutely oozes mind-clouding, desire-inducing pheromones . . .

Before they know it, Alwin and Sybil are both discovering the pleasures and curiosities of the sex sphere, while on the run from the various forces chasing them. But what is the sphere itself, really? Why is it stuck in our dimension? And what does it want in the end?

Night Shade Books' ten-volume series with Rudy Rucker collects nine of the brilliantly weird novels for which the mathematician-turned-author is known, as well as a tenth, never-before-published book, Million Mile Road Trip. We're proud to collect in one place so much of the work of this influential figure in the early cyberpunk scene, and to share Rucker's fascinating, unique worldview with an entirely new generation of readers.
 
Praise For The Sex Sphere…
Praise for The Sex Sphere

"Alien invaders tend to squirt acid, go invisible, or drive humongous ships. Not the ones in Rudy Rucker's 1980s classic The Sex Sphere, where an alien named Babs and her crew take the form of disembodied sex organs that attach to human hosts . . . Only trip-tastic writer Rucker could imagine such a scenario . . . If you like your science fiction to contain hard science mixed with bizarro humor, don't miss The Sex Sphere." —Annalee Newitz, io9
 
"Phenomenally weird . . . The Sex Sphere is a tome that deserves to be on the 'experimental/avant garde' shelf along with books by Irvine Welsh, Iain Banks, and William Burroughs. It's a crossover book for anarchist-stoner-hipsters and it's a far-out read, playing havoc with the concepts of math, sex and politics." —Ivan Lerner, Revolution Science Fiction
 
"You cannot know where modern science fiction has gotten to unless you are familiar with Rucker's work." —Fantasy & Science Fiction
 
Praise for Rudy Rucker

"Rudy Rucker should be declared a National Treasure of American Science Fiction. Someone simultaneously channeling Kurt Gödel and Lenny Bruce might start to approximate full-on Ruckerian warp-space, but without the sweet, human, splendidly goofy Rudy-ness at the core of the singularity." —William Gibson
 
"Rucker's writing is great like the Ramones are great: a genre stripped to its essence, attitude up the wazoo, and cartoon sentiments that reek of identifiable lives and issues. Wild math you can get elsewhere, but no one does the cyber version of beatnik glory quite like Rucker." —New York Review of Science Fiction
 
"For some two decades now, since the publication of his first novel, White Light, Rucker has combined an easygoing, trippy style influenced by the Beats with a deep engagement with knotty (or 'gnarly,' to employ one of his favorite terms) intellectual conceits, based mainly in mathematics. In the typical Rucker novel, likably eccentric characters—who run the gamut from brilliant to near-certifiable—encounter aspects of the universe that confirm that life is weirder than we can imagine." —The Washington Post
 
"Rudy Rucker is the most consistently brilliant imagination working in SF today."— Charles Stross, author of The Laundry Files
 
"Reading a Rudy Rucker book is like finding Poe, Kerouac, Lewis Carroll, and Philip K. Dick parked on your driveway in a topless '57 Caddy . . . and telling you they're taking you for a RIDE. The funniest science fiction author around." —Sci-Fi Universe
 
"Rucker [gives you] more ideas per chapter than most authors use in an entire novel." —San Francisco Chronicle
 
 
Night Shade, 9781949102017, 264pp.
Publication Date: September 24, 2019
About the Author
Rudy Rucker is a writer and a mathematician who worked for twenty years as a Silicon Valley computer science professor. He is regarded as contemporary master of science-fiction, and received the Philip K. Dick award twice. His thirty published books include both novels and non-fiction books on the fourth dimension, infinity, and the meaning of computation. A founder of the cyberpunk school of science-fiction, Rucker also writes SF in a realistic style known as transrealism, often including himself as a character. He lives in the San Francisco Bay Area.
or
Not Currently Available for Direct Purchase