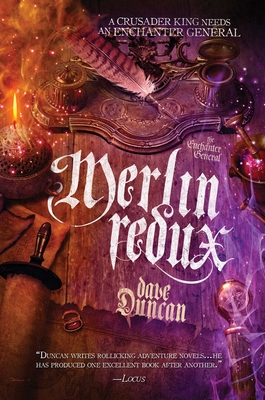 Merlin Redux
The Enchanter General, Book Three
Hardcover

* Individual store prices may vary.
Other Editions of This Title:
Digital Audiobook (6/22/2020)
MP3 CD (6/23/2020)
Compact Disc (6/23/2020)
Paperback (10/8/2019)
Description
Sir Durwin must overcome a cloak-and-dagger plot to usurp the king in the final novel of the Enchanter General, a historical fantasy trilogy set in twelfth century England.

King Henry is dead; Richard the Lionheart now rules England. The new king does not believe in magic, and is interested only in a crusade to recapture Jerusalem.
But his crusade soon stalls, and while he is away, his brother, John, and his supposed ally, Philip of France, are conspiring to steal his kingdom. Richard's mother, Queen Eleanor, sends Sir Durwin, Enchanter General of England, out to Palestine, where he must convince the skeptical king that a loyal magician can be a valuable aide.

Meanwhile, King Philip has turned all of Europe into a trap for Richard. The moment the Lionheart sets foot there, he will be arrested and imprisoned for life. It is up to Durwin, aided by his old friend William Legier, to see Richard safely home again and to save the kingdom from falling into the hands of the sadistic and treacherous Prince John . . .
 
Praise For Merlin Redux: The Enchanter General, Book Three…
Praise for Ironfoot:

"Enjoyable characters, a detailed setting, and atmospheric adventure intertwine in this multilevel mystery. Durwin is a congenial and persistent investigator, and readers will look forward to his future adventures."—Publishers Weekly

"An entertaining, fast-paced read that will please readers looking for mystery and enchantment."—Kirkus Reviews

"Ironfoot is gritty, magical, at times brutal, but above all humane. This is historical fantasy pulled off spectacularly well." —Greg Keyes, author of The Briar King and The Reign of the Departed

"A fantastic murder mystery firmly anchored in real history, plus a generous mix of arcane magic."—Glenda Larke, author of The Lascar's Dagger

"I was surprised by how compelling it was . . . I would recommend this."—Milliebot Reads

"An enjoyable easy read . . . hopefully there's a sequel in the not too distant future."—Cannonball Read

Praise for Dave Duncan:
 
"Duncan excels at old-fashioned swashbuckling fantasy, maintaining a delicate balance between breathtaking excitement, romance and high camp in a genre that is easy to overdo. This is page-turning adventure with fun characters, crackling dialogue and a smart, twisty plot."—RT Book Reviews on Impossible Odds, reviewed by Jen Talley Exum (4.5/5 Stars)

"[A] book that gave me the comfort I felt from the classic fantasy of yore with enough fresh ideas to allow it to sit unashamedly alongside the great fantasy books of recent times. . . . Good, solid high fantasy with interesting characters and and a clever, constantly weaving plot and narrative."—Fantasy Book Review on Magic Casement

"Duncan doesn't disappoint with another extraordinary tale of magic, mayhem and family relationships. With great storytelling, stand-out worldbuilding, compelling characters and a quick-paced plot, this inventive fantasy will have you clamoring for book two."—RT Book Reviews on Speak to the Devil, reviewed by Gail Pruszkowski (4.5/5 Stars)

"Like all Dave Duncan's fantasies, Magic Casement has a charm and vibrant sense of humor. . . . rich talent and wit as a writer. . . . If it's traditional fantasy adventure with a bit of nudge-nudge wink-wink you're after, Dave Duncan is your go-to guy."—SF Reviews on Magic Casement

"[V]ersatile, talented . . . An authoritative reworking of history, combining a splendid welter of religious and political intrigues with Duncan's typically inventive, deft handling of magic and character-driven action."—Kirkus Reviews on When the Saints

"Deserves a wide readership and belongs in most fantasy collections."—Library Journal

"Rich, evocative language and superior narrative skills . . . only enhance Duncan's reputation as one of the leading masters of epic fantasy."—Publisher's Weekly

"Distinctive and markedly superior to most of the competition."—Kirkus Reviews

"Dave Duncan writes rollicking adventure novels filled with subtle characterization and made bitter-sweet by an underlying darkness. Without striving for grand effects or momentous meetings between genres, he has produced one excellent book after another."—Locus

"Duncan is an exceedingly finished stylist and a master of world building and characterization."—Booklist

"Duncan writes with unusual flair, drawing upon folklore, myth, and his gift for creating ingenious plots."—Year's Best Fantasy and Horror

"Dave Duncan is one of the best writers in the fantasy world today. His writing is clear, vibrant and full of energy. His action scenes are breathtaking and his skill at characterization is excellent."—Writers Write

"Duncan's prose avoids the excessively florid in its description and the archaic in its dialogue, opting instead for simpler narration and contemporary parlance . . . serves as a refreshing reminder that epic fantasy need not always be doorstops filled with manly men speaking in overblown rhetoric and grasping their swords."—SFF World

"Dave Duncan produces excellent work in book after book . . . Duncan is a great world-builder. His fantasy worlds are not mere medieval societies with magic added but make organic sense. Duncan's other strength as a writer is strong characterization. Each of the main characters comes across as his or her own person."—SFReview

"Dave Duncan has long been one of the great unsung figures of Canadian fantasy and science fiction, graced with a fertile imagination, a prolific output, and keen writerly skills."—Quill and Quire

"The single greatest pleasure afforded by Duncan's writing is its incredible polish and narrative mastery. . . . I heartily recommend it to any fantasy fan who's looking for something slightly out of the ordinary."—Ticonderoga Online

"When you're looking for a good adventure, Dave Duncan is a sure thing. Mostly in fantasy, but he can certainly do SF as well . . . [with] his sly & fast paced plotting, his ability to construct intriguingly different worlds, & his knack for quick & entertaining characterization & dialogue."—Eclectic Ruckus
Night Shade, 9781949102031, 288pp.
Publication Date: October 8, 2019
About the Author
Dave Duncan was a prolific author of fantasy and science fiction, including the fantasy series The Seventh Sword, A Man of His Word, and The King's Blades, whose books have been translated in fifteen languages. He was both a founding and honorary lifetime member of SF Canada. Dave and his wife Janet, his in-house editor and partner for more than fifty years, lived in Victoria, British Columbia. They had three children and four grandchildren. Dave passed away in October, 2018. Merlin Redux is one of the last novels he finished.
or
Not Currently Available for Direct Purchase