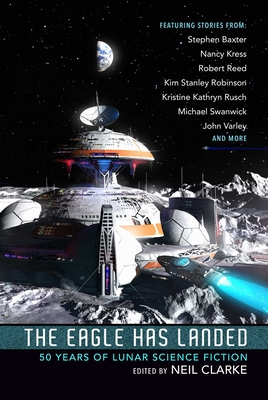 The Eagle Has Landed
50 Years of Lunar Science Fiction
Hardcover

* Individual store prices may vary.
Other Editions of This Title:
Digital Audiobook (9/9/2019)
Paperback (7/16/2019)
Description
The lone survivor of a lunar crash, waiting for rescue in a solar powered suit, must keep walking for thirty days to remain in the sunlight keeping her alive . . . life as an ice miner turns ugly as the workers' resentment turns from sabotage to murder . . . an astronaut investigating a strange crash landing encounters an increasing number of doppelgangers of herself . . . a nuclear bomb with a human personality announces to a moon colony that it will soon explode . . . hundreds of years in the future, art forgers working on the lunar surface travel back in time to swap out priceless art, rescuing it from what will become a destroyed Earth . . .  

On July 20, 1969, mankind made what had only years earlier seemed like an impossible leap forward: Apollo 11 became the first manned mission to land on the moon, and Neil Armstrong the first person to step foot on the lunar surface. While there have only been a handful of new missions since, the fascination with our planet's satellite continues, and generations of writers and artists have imagined the endless possibilities of lunar life.

The Eagle Has Landed collects the best stories written in the fifty years since mankind first stepped foot on the lunar surface, serving as a shining reminder that the moon is a visible and constant example of all the infinite possibility of the wider universe.

Table of Contents

Introduction
Bagatelle by John Varley
The Eve of the Last Apollo by Carter Scholz
The Lunatics by Kim Stanley Robinson
Griffin's Egg by Michael Swanwick
A Walk in the Sun by Geoffrey A. Landis
Waging Good by Robert Reed
How We Lost the Moon by Paul McAuley
People Came From Earth by Stephen Baxter
Ashes and Tombstones by Brian Stableford
Sunday Night Yams at Minnie and Earl's by Adam Troy Castro
Stories for Men by John Kessel
The Clear Blue Seas of Luna by Gregory Benford
You Will Go to the Moon by William Preston
SeniorSource by Kristine Kathryn Rusch
The Economy of Vacuum by Sarah Thomas
The Cassandra Project by Jack McDevitt
Fly Me to the Moon by Marianne J. Dyson
Tyche and the Ants by Hannu Rajaniemi
The Moon Belongs to Everyone by Michael Alexander and K.C. Ball
The Fifth Dragon by Ian McDonald
Let Baser Things Devise by Berrien C. Henderson
The Moon is Not a Battlefield by Indrapramit Das
Every Hour of Light and Dark by Nancy Kress
In Event of Moon Disaster by Rich Larson
Permissions
About the Editor
Praise For The Eagle Has Landed: 50 Years of Lunar Science Fiction…
Praise for The Eagle Has Landed
 
"This solid and well-rounded anthology is highly recommended."—Booklist, starred review
 
"An eclectic selection of the past 50 years in lunar science fiction, written by a who's who of speculative fiction writers . . . will appeal to fans of futuristic science fiction and historic space race aficionados." —Publishers Weekly
 
Praise for Neil Clarke's Anthologies with Night Shade Books
 
"Readers should savor the stories a few at a time to get the most out of Clarke's superior selections . . . but there are no inferior pieces here. This is a fine, thoughtful book."
—Publishers Weekly, starred review for Not One of Us
 
"Well-known SF authors grace this . . . top-notch selection of imaginative and thought-provoking stories."
—Kirkus Reviews, starred review for More Human Than Human
 
"Clarke's stellar reprint anthology explores the expansive variety of space exploration stories. . . . Outstanding works in which extreme environments bring out the best and worst of human nature."
—Publishers Weekly, Starred Review for The Final Frontier

"Twenty one fascinating tales from some of science fiction's new stars. The reprint collection is multicultural and diverse, with tales of all kinds and from some unusual places. . . . Many standouts in this one and likely something here for all sorts of different kinds of folks."
—Manhattan Book Review, 4.5/5 Stars for The Final Frontier
 
"This hefty anthology of imperial SF covers great space battles, small dramas within an empire, hopeless bureaucracy, and even living space stations, zooming in and out to capture every nuance . . . The diverse array of stories ensures that there's plenty of interest for any fan of large-scale SF." 
—Publishers Weekly on Galactic Empires

"Masterful editor Neil Clarke has assembled an exotic, bountiful treasure chest of reprint tales dedicated to that mode of SF that can arguably be said to constitute the very core of the field, the space opera."
—Asimov's on Galactic Empires
 
"Clarke has assembled a wide range of authors – from old masters like Robert Silverberg to more recent talents such as Aliette De Bodard – each offering a different take on the central premise. . . There isn't a bad piece amongst them . . . the Galaxy really is there for the taking."
—Starburst on Galactic Empires, reviewed by Alister Davison

"As editor Clarke points out in his introduction, when most people hear the term galactic empire, they immediately picture Darth Vader and Star Wars. But there is a long history of star-faring empires in the genre, with stories that imagine our human tendencies to explore and conquer among the stars. . . . The stories gathered here, all of which have appeared elsewhere, show the huge range of possibilities of the chosen theme." 
—Library Journal on Galactic Empires

"The first must-read anthology of the year, no question, is Neil Clarke's Galactic Empires, an ambitious (read: huge) collection of SF tales featuring far-flung confederations in the stars. The TOC is a who's-who of virtually everyone doing important work at short length in science fiction." 
—John O'Neil, Black Gate on Galactic Empires

"Brings together some of the best voices writing in the genre today. . . . a stunning collection of short fiction."
—WorldsInInk on Galactic Empires
 
Night Shade, 9781949102093, 600pp.
Publication Date: July 16, 2019
About the Author
Neil Clarke is the editor of Clarkesworld and Forever Magazine and owner of Wyrm Publishing, and a six-time Hugo Award Nominee for Best Editor (short form). He currently lives in New Jersey with his wife and two children.
or
Not Currently Available for Direct Purchase