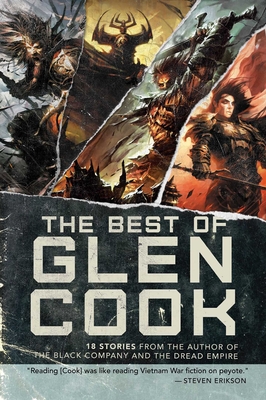 The Best of Glen Cook
18 Stories from the Author of The Black Company and The Dread Empire
Hardcover

* Individual store prices may vary.
Other Editions of This Title:
Digital Audiobook (4/27/2020)
Paperback (11/24/2020)
Compact Disc (4/28/2020)
MP3 CD (4/28/2020)
Description
The best short fiction of legendary author Glen Cook (The Black Company, the Dread Empire) is collected into a new hardcover volume.

For over forty years, Glen Cook has been among the most well-known, influential, and widely respected authors in science fiction and fantasy. Through classic series such as The Black Company, Garrett P.I., the Dread Empire, Starfishers, Darkwar, and more, his gritty, down-to-earth style left an indelible impression on his readers around the world, forever shifting the genre landscape and carving out his place as a pioneering icon.
 
The Best of Glen Cook collects eighteen of his greatest stories—as chosen and introduced by the author himself—including a new, never-before-published Black Company novelette. With works set in all of his most famous series, these tales of science fiction and fantasy offer both the perfect way for longtime fans to trace Cook's history and for new readers to become familiar with one of the finest genre authors of the twentieth century.
 
Praise For The Best of Glen Cook: 18 Stories from the Author of The Black Company and The Dread Empire…
Praise for Glen Cook

"Glen Cook single-handedly changed the face of fantasy—something a lot of people didn't notice, and maybe still don't. Reading his stuff is like reading Vietnam War fiction on Peyote."
—Steven Erikson, author of the Malazan Book of the Fallen series

"Over the past 25 years, Cook has carved out a place for himself among the preeminent fantasy writers of his generation. . . . His work is unrelentingly real, complex, and honest. The sense of place that permeates his narrative and characters gives his 'fantasies' more gravitas and grit than most fictions set in the here-and-now."
—New York Times bestselling author Jeff VanderMeer

"A master realist of the imagination."
—Locus

"Glen writes a mean book."
 —Jim Butcher, author of The Dresden Files

"These books, like so many of Cook's series, are epic in scale but intimate in focus . . . Cook is a brilliant writer."
—The Green Man Review, on A Fortress in Shadow

"One of the defining fantasy series ever written. Glen Cook's writing is a great flood that washes fantasy tropes and cliché's away and in their place we are given three novels that make us reflect on what it means to be human. . . . On more than one occasion I found chills running down my spine. Words don't do these novels justice."
—The Ostentatious Ogre on A Cruel Wind

 "Glen Cook is the author of some of my hands-down favorite books. I hold out his Black Company series as arguably the best military fantasy ever written. The early Garrett books set a standard for the blending of fantasy and hardboiled fiction."
—Black Gate

"One of Cook's strongest storytelling traits shines through, his ability to cast no judgment and show the opposing sides of a conflict with honesty, empathy, and resonance."
—SFFWorld, on A Fortress in Shadow

"Glen Cook is a rare beast of a writer—he can vacillate between military fantasy, space opera, epic fantasy, mystery, and science fantasy with great ease. His writing is often marked by a purity; that he is depicting life in its most real sense, from the thoughts in a character's mind to the wind rushing across his or her face."
—Rob H. Bedford, sffworld.com, on Darkwar

 "Cook's talent for combining gritty realism and high fantasy provides a singular edge."
—Library Journal, on Water Sleeps

"Cook provides a rich world of assorted races, cultures, and religions; his characters combine the mythic or exotic with the realistic, engaging in absorbing alliances, enmities, and double-crosses."
—Publishers Weekly, on Bleak Seasons

"New and innovative. [Cook] blends the urban, intimate, slightly seedy tradition of sword & sorcery with the pastoral, epic, expansive tradition of heroic fantasy . . . this is the book that injected a shot of realism into the genre, and helped steer it on the course towards modern so-called "gritty" fantasy."
—Strange Horizons, on Chronicles of the Black Company

"Glen Cook changed the face of the fantasy genre forever . . . and for the better."
—Fantasy Book Review, on The Black Company
Night Shade, 9781949102178, 552pp.
Publication Date: November 12, 2019
About the Author
Glen Cook is the author of dozens of novels of fantasy and science fiction, including The Black Company series, The Garrett Files, and The Tyranny of the Night. Cook was born in 1944 in New York City. He attended the Clarion Writers' Workshop in 1970, where he met his wife, Carol.
or
Not Currently Available for Direct Purchase