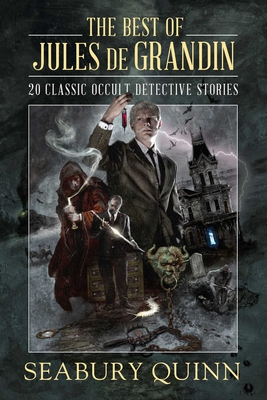 The Best of Jules de Grandin
20 Classic Occult Detective Stories
Hardcover

* Individual store prices may vary.
Description
"Hercule Poirot meets Fox Mulder . . . raises genuine shivers. "—Kirkus Reviews

A collection of the 20 greatest tales of Jules de Grandin, the supernatural detective made famous in the classic pulp magazine Weird Tales.
Today the names of H. P. Lovecraft, Robert E. Howard, August Derleth, and Clark Ashton Smith, all regular contributors to the pulp magazine Weird Tales during the first half of the twentieth century, are recognizable even to casual readers of the bizarre and fantastic. And yet despite being more popular than them all during the golden era of genre pulp fiction, there is another author whose name and work have fallen into obscurity: Seabury Quinn.

Quinn's short stories were featured in well more than half of Weird Tales's original publication run. His most famous character, the supernatural French detective Dr. Jules de Grandin, investigated cases involving monsters, devil worshippers, serial killers, and spirits from beyond the grave, often set in the small town of Harrisonville, New Jersey. In de Grandin there are familiar shades of both Arthur Conan Doyle's Sherlock Holmes and Agatha Christie's Hercule Poirot, and alongside his assistant, Dr. Samuel Trowbridge, de Grandin's knack for solving mysteries—and his outbursts of peculiar French-isms (grand Dieu!)—captivated readers for nearly three decades.

The Best of Jules de Grandin, edited by George Vanderburgh, presents twenty of the greatest published works featuring the supernatural detective. Presented in chronological order with stories from the 1920s through the 1940s, this collection contains the most incredible of Jules de Grandin's many awe-inspiring adventures. 
Praise For The Best of Jules de Grandin: 20 Classic Occult Detective Stories…
Praise for Seabury Quinn's Jules de Grandin Stories:

"Hercule Poirot meets Fox Mulder . . . gruesomely effective, and purists who object to detective stories with paranormal elements will find that the moment each story crosses the border to the supernatural raises genuine shivers."—Kirkus Reviews

"Connoisseurs of pulp adventure . . . will be delighted."—Publishers Weekly

"A collection of wonderfully fun mashups. Seabury Quinn's stories are bloody and action-packed, with the sort of shameless, disreputable charm that characterizes the best of the pulps. Even if there's little that's truly original in his work, his clever assortment of monsters and occult menaces make for tremendously entertaining stories. His admirers have every reason to be thrilled with these comprehensive new collections, and the writer will find new fans among those who enjoy truly weird horror."—Barnes & Noble Sci-Fi & Fantasy Blog

"A fun, spooky trip back to the golden age of weird . . . De Grandin, 'his little blond mustache twitching like the whiskers of an excited cat,' is an exuberant, delightful creation."—Publishers Weekly

"Quite fun; [the stories] move quickly and offer up a tantalizing blend of mystery and the bizarre . . . [Quinn's] characterizations and pacing lead to stories that are quite satisfying."—Kirkus Reviews

"Read this and you will get a blast of the past...It's nice to see the old stories gathered up and being shared again. Stories never die as long as there's still one storyteller left."—Book Faerie
 
Night Shade, 9781949102260, 560pp.
Publication Date: June 30, 2020
About the Author
Seabury Quinn was a pulp magazine author whose popular stories of the occult detective Jules de Grandin were published in Weird Tales between 1925 and 1951. Quinn penned ninety-two short stories and one full-length novel featuring "the occult Hercule Poirot," which were enormously popular with readers. Quinn died in 1969.
or
Not Currently Available for Direct Purchase