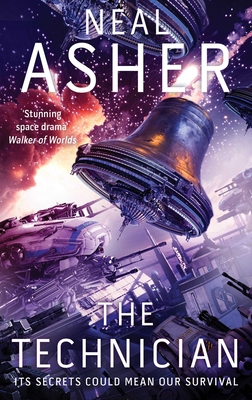 The Technician
A Novel of the Polity
Mass Market

* Individual store prices may vary.
Other Editions of This Title:
Paperback (1/6/2015)
Description
An ancient threat rises again in this grand, complex, and dark stand-alone novel set in Neal Asher's Polity universe.

The Theocracy died 20 years ago, and the Polity rules on Masada. But there is a group of rebels, called the Tidy Squad, who cannot accept the new order. They hate the surviving theocrats, and the iconic Jeremiah Tombs is at the top of their hit list.

After breaking out of his sanatorium, Tombs is pushed into painful confrontations with all that he has avoided since the rebellion. Many years ago, an almost mythical hooder called the Technician attacked him and did something to his mind. Tombs's insanity needs to be cured, because he might have knowledge about the suicide of an entire alien race. The war drone Amistad, who has the task of bringing this information to light, recruits Leif Grant, a former rebel Commander, to protects Tombs. Penny Royal and Chanter are recruited as well.

Meanwhile, far off in deep space, the device that the Atheter used to reduce them to animals awakens and begins to power its weapons. . . .
Praise For The Technician: A Novel of the Polity…
Praise for Neal Asher:

"Neal Asher's books are like an adrenaline shot targeted directly for the brain." —New York Times bestselling author John Scalzi

"With mind-blowing complexity, characters, and combat, Asher's work continues to combine the best of advanced cybertech and military SF." ?Publishers Weekly, starred review

"Asher is a modern master of sci-fi." —Starburst magazine

"A wide-screen special-effects extravaganza, a space opera featuring gods and monsters . . . Doc Smith and Olaf Stapledon in a blender, turned up to eleven, with the contents splattering across the ceiling." ?Russell Letson, Locus

"Asher has an amazing talent for world-building, for writing larger-than-life characters, for weaving gripping plots and for imagining exotic alien races and wonderful technologies. Huge ships! Big weapons! Space battles! Ground battles! Treason! Revenge! This is New Space Opera at its best." —Sense of Wonder

"Hardboiled, fast-paced space opera . . . Asher's books are similar to the world of Iain M. Banks' Culture universe, but the Polity is arguably a much darker and more vicious environment—and all the better for it." —The Register
Night Shade, 9781949102406, 456pp.
Publication Date: July 28, 2020
About the Author
Neal Asher is a science fiction writer whose work has been nominated for both the Philip K. Dick and the British Fantasy Society awards. He has published more than twenty books, many set within his "Polity" universe, including Gridlinked, The Skinner, and Dark Intelligence. He divides his time between Essex and a home in Crete.