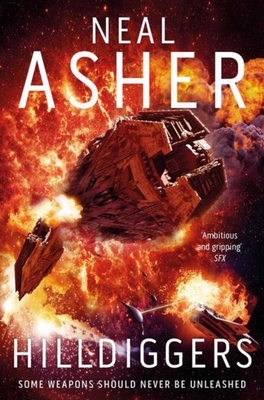 Hilldiggers
A Novel of the Polity
Mass Market

* Individual store prices may vary.
Other Editions of This Title:
Paperback (8/5/2014)
Description
They have extraordinary power and aren't afraid to use it . . .

Two planets in the same solar system are locked in war, when some kind of cosmic super-string is discovered. It seems packed with alien technology, or even perhaps life. And for safety it is stored – in four segments – within a maximum-security space station. A female research scientist falls pregnant on the station soon after, and gives birth to quads. Then she commits suicide. But why?

By the war's end, one planet is devastated. It fell victim to the other's incredible hilldigger weaponry – so named as their blasts create mountains. Meanwhile, the quads have reached adulthood, and are gaining power in post-war society. One of them has his sights set on claiming the hilldiggers and their power for himself. But with what consequences for humanity?

Hilldiggers is a fast-paced standalone, following events in Neal Asher's Spatterjay trilogy.
Praise For Hilldiggers: A Novel of the Polity…
Praise for Neal Asher:

"Neal Asher's books are like an adrenaline shot targeted directly for the brain." —New York Times bestselling author John Scalzi

"With mind-blowing complexity, characters, and combat, Asher's work continues to combine the best of advanced cybertech and military SF." ?Publishers Weekly, starred review

"Asher is a modern master of sci-fi." —Starburst magazine

"A wide-screen special-effects extravaganza, a space opera featuring gods and monsters . . . Doc Smith and Olaf Stapledon in a blender, turned up to eleven, with the contents splattering across the ceiling." ?Russell Letson, Locus

"Asher has an amazing talent for world-building, for writing larger-than-life characters, for weaving gripping plots and for imagining exotic alien races and wonderful technologies. Huge ships! Big weapons! Space battles! Ground battles! Treason! Revenge! This is New Space Opera at its best." —Sense of Wonder

"Hardboiled, fast-paced space opera . . . Asher's books are similar to the world of Iain M. Banks' Culture universe, but the Polity is arguably a much darker and more vicious environment—and all the better for it." —The Register
Night Shade, 9781949102413, 464pp.
Publication Date: September 22, 2020
About the Author
Neal Asher is a science fiction writer whose work has been nominated for both the Philip K. Dick and the British Fantasy Society awards. He has published more than twenty books, many set within his "Polity" universe, including Gridlinked, The Skinner, and Dark Intelligence. He divides his time between Essex and a home in Crete.