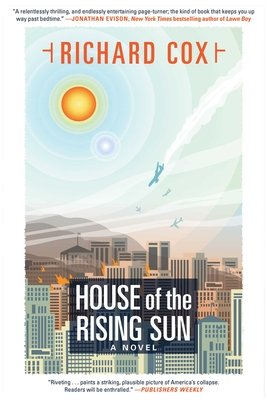 House of the Rising Sun
A Novel
Paperback

* Individual store prices may vary.
Description
Both a frightening apocalyptic story set in the southern United States and a character-focused, deeply moving literary thriller.
 
What would happen if technology all over the world suddenly stopped working? 

When a strange new star appears in the sky, human life instantly grinds to a halt. Across the world, anything and everything electronic stops working completely. 

At first, the event seems like a bizarre miracle to Seth Black—it interrupts his suicide attempt and erases gambling debt that threatened to destroy his family. But when Seth and his wife, Natalie, realize the electricity isn't coming back on, that their food supplies won't last, they begin to wonder how they and their two sons will survive. 

Meanwhile, screenwriter Thomas Phillips—an old friend of Natalie's—has just picked up Skylar Stover, star of his new movie, at the airport when his phone goes dead and planes begin to fall from the sky.

Thomas has just completed a script about a similar electromagnetic event that ended the world. Now, he's one of the few who recognizes what's happening and where it will lead. 

When Thomas and Skylar decide to rescue Natalie and Seth, the unwilling group must attempt to survive together as the world falls apart. They try to hide in Thomas's home and avoid desperate neighbors, but fear they'll soon be roaming the streets with starving refugees and angry vigilantes intent on forming new governments. It's all they can do to hold on to each other and their humanity. 

Yet all the while, unbeknownst to them, Aiden Christopher—a bitter and malignant man leveraging a crumbling society to live out his darkest, most amoral fantasies—is fighting to survive as well. And he's on a collision course with Thomas, Skylar, and the Black family…
 
Praise For House of the Rising Sun: A Novel…
Praise for House of the Rising Sun

"A relentlessly thrilling, and endlessly entertaining page-turner; the kind of book that keeps you up way past bedtime. Once again, Cox has written a well-oiled-machine of a novel."—Jonathan Evison, New York Times bestselling author of Lawn Boy

"Riveting . . . paints a striking, plausible picture of America's collapse. Readers will be enthralled."—Publishers weekly

"Richard Cox's House of the Rising Sun is a clever, seductive, and wholly-original take on the 21st century apocalyptic tale. It is likely to connect with fans of thrillers, readers who enjoy stories of cataclysm and survival, and with enthusiasts of science-fiction that's so closely ripped from the headlines that it may not be fiction for long. But have no doubt; the characters and pacing are the real stars of this show. I can't remember the last time a book had me turning pages so enthusiastically simply because I couldn't wait to see what happened next."—Scott Kenemore, author of Lake of Darkness and Zombie, Ohio

"Has a literary sensibility with a thriller's premise and pacing while exploring vital questions within post-apocalyptic America."—Vanessa Lillie, Amazon bestselling author of Little Voices and For the Best
 
Night Shade, 9781949102437, 408pp.
Publication Date: July 27, 2020
About the Author
Richard Cox is the author of five novels. He lives in Tulsa, Oklahoma with his wife and two daughters. In his spare time he likes to hit bombs.
 
or
Not Currently Available for Direct Purchase