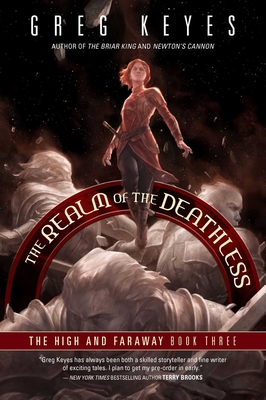 Realms of the Deathless
The High and Faraway, Book Three
Paperback

* Individual store prices may vary.
Description
"Greg Keyes has always been . . . a skilled storyteller."—Terry Brooks, New York Times bestselling author

The Curse shaped Aster's life from birth. At first, she believed her father was its only victim, and determined to save him from it. In doing so she learned that the Curse had stricken everyone in the magical realms known as the Kingdoms – and that, in an attempt to protect her, her father had himself created it. Now he is dead, a victim of his own sorcery. But the Curse has not ended with him. Her father's actions, his dread spell, were only the shadows cast by a much deeper, older conflict, which is now unwinding the universe itself.

As the sun fades and the stars wink out, Aster must follow a clue from her dead father to the highest, furthest domain – beyond the fairy-tale kingdoms, through fantastic and terrifying realms of gods and demons, to the very source of reality, the beginning and ending of everything. There she might finally set things right. Her path is narrow, and the sacrifices necessary for even a tiny chance at success are unacceptable.

For the Curse has also released a rot at the very heart of the High and Faraway, an evil more ancient than time itself. It is against this unwavering malevolence that Aster, Errol, Billy, Dusk and Delia must pit themselves. They must do so without their friend Veronica, a girl murdered decades before and brought back to life by Aster's magic. For as Veronica discovers her own vast power, she stares into the face of the enemy and sees in it her true self . . .
Praise For Realms of the Deathless: The High and Faraway, Book Three…
Praise for The Reign of the Departed

"Greg Keyes has always been both a skilled storyteller and fine writer of exciting tales. I plan to get my pre-order in early."—New York Times bestselling author Terry Brooks

"Keyes is a master of world building and of quirky characters who grow into their relationships in unexpected ways. Fans of his Age of Unreason and his Kingdoms of Thorn and Bone fantasy series will want to get in on the ground floor of the High and Faraway series."—Booklist

"I liked a lot of what Keyes was doing in the novel, in terms of the story itself, the characters, and laying the groundwork for a multi-book narrative. The world where Errol awakens in his new body has a lived-in feel, a world with history and mythology of its own. . . . the story reminded me of Kate Elliott's Crown of Stars."—SFFWorld

"Starts in the realm of normalcy and quickly descends into the favorably bizarre and surprising. . . there was not one character that was uninteresting. The world building is epic. A magical realm that mirrors earth while residing under a curse was not only inventive but enthralling."—Koeur's Book Reviews, 4.4/5 Stars
Night Shade, 9781949102567, 360pp.
Publication Date: March 1, 2022
About the Author
Greg Keyes has written numerous books and short stories since his debut novel The Waterborn was published in 1996, including The Age of Unreason and The Kingdoms of Thorn and Bone series. He lives in Savannah, Georgia with his wife Nell, children John Edward Arch and Dorothy Nellah Joyce, and far too many pets.