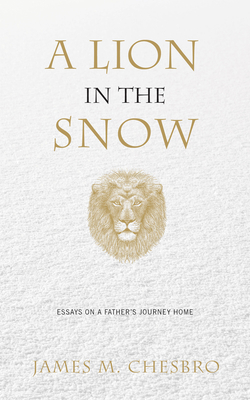 A Lion in the Snow
Essays on a Father's Journey Home
Paperback

* Individual store prices may vary.
Other Editions of This Title:
Hardcover (2/1/2019)
Description
When his wife was pregnant, James M. Chesbro started having daydreams of seeing a lion in his street, padding toward his house through the snowflakes of a New England storm. He felt more like a son, still grieving over the early loss of his own father, rather than a prepared expectant-dad. In these essays, Chesbro finds himself disoriented and bewildered by fatherhood again and again as he explores the maddening moments that provide occasions for new understandings about our children and us.
A Lion in the Snow is a contemporary father's field guide, a husband's compendium, and a wife's glimpse into the turning mind of a spouse in the grounded prose of domestic conflict.
"James Chesbro writes with equal measure of heart and smarts, patiently braiding together threads of family, loss, memory, and fatherhood until we, the reader, become unraveled. His richly textured, sensory-driven prose reveals the hidden meaning and emotional stakes that shimmer beneath everyday activities as simple as mowing the lawn."
--Steven Church, author of six books of nonfiction, most recently the collection of essays, I'm Just Getting to the Disturbing Part: on Work, Fear and Fatherhood, and One with the Tiger: Sublime and Violent Encounters Between Humans and Animals.
"James Chesbro makes the mundane memorable. His clear and resonant voice makes every word feel as if it was written just for you. Smart, witty, and relatable, I'm always waiting for that next word, anxious to read on the page what I've so often felt in my heart."
--B.J. Hollars, author of Flock Together, From the Mouths of Dogs, This Is Only a Test, and Sightings
"A Lion in the Snow is a moving, meditative exploration of fatherhood, grief, and masculinity. James Chesbro paints a poignant picture of a young father still finding his way, while grappling with the loss of his own father. In these sharp, lyrical essays, Chesbro illustrates the eternal struggle: how do we follow in the footsteps of our parents without repeating all their mistakes?"
--Tom McAllister, author of How to Be Safe
"For we think back through our mothers if we are women," declared Virginia Woolf. In the same way, men imagine their lives under the influence of their fathers. While in his twenties, James Chesbro lost his own father, from whom he had been estranged, and with whom he had only recently, and incompletely, reconciled. This loss came just as Chesbro was becoming a father himself, first of one, then of two, and eventually of three young children. These candid, lucid essays tell the story of how he coped with the taxing responsibilities of marriage and family, and how, in the absence of a living father, he reconstructed from fragments a model of manhood."
Scott Russell Sanders -- author of Earth Works: New & Selected Essays
"Whether writing about missing his father during the solitude of an early morning, or musing about an elderly, lonely neighbor, Chesbro's essays are moving, thoughtful, and beautiful. I love reading his work."
Jerald Walker -- author of The World in Flames and Street Shadows
"A lawn mower, a train ride, a rubber ball, a wooden bridge over flapping fish--in A Lion in the Snow, James M. Chesbro has gathered together the small objects and moments that unite fathers and sons to produce a brilliant book."
Sam Borden --senior writer for ESPN and former foreign correspondent for The New York Times
Woodhall Press, 9781949116007, 176pp.
Publication Date: October 1, 2018
About the Author
James M. Chesbro's work has appeared in The Washington Post, America, The Writer's Chronicle, Brain, Child Magazine, Essay Daily, and The Huffington Post. His essays are notable selections in The Best American Essays series 2012, 2014, 2015, 2017, and 2018, as well as The Best American Sports Writing 2014. He teaches at Fairfield College Preparatory School.