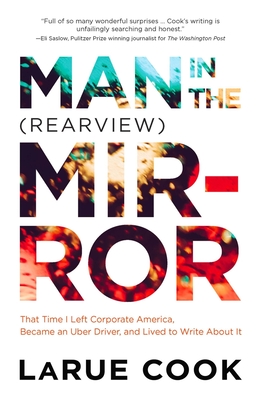 Man in the (Rearview) Mirror
That Time I Left Corporate America, Became an Uber Driver, and Lived to Write About It
Paperback

* Individual store prices may vary.
Description
"I thought I was a pretty brave man, 'til I read LaRue Cook's memoir. It took guts to walk away from a cushy corporate job, and even more guts--and great talent--to turn it into such an excellent read. It is Southern at its heart, but universal in its appeal, to strike out, and do what you yearn to do." -- Rick Bragg, Pulitzer Prize winner and best-selling author of Ava's Man and All Over but the Shoutin'
At the age of thirty, LaRue Cook thought he had achieved the "American Dream"--a cushy job at ESPN; a long-term relationship; friendship and respect from his colleagues within the cutthroat industry of sports media. Still, he felt troubled and restless, attempting in vain to live up to the journalistic legacy of his late father, the man whose early death he'd never reconciled.
And so he left. He moved from Connecticut back to his native Tennessee, hoping to find solace in the place where he'd first found meaning as a writer. To help pay the bills, he started driving for Uber and found himself looking in the rearview mirror, sharing stories with people across race and class, gender and ethnicity--all while the United States experienced one of the most polarizing presidential elections in its history.
Part voyeuristic, part inspirational, sometimes hilarious, always thoughtful and probing, Man in the (Rearview) Mirror is a book about learning how to love yourself at a time in America when it is often too easy to hate. With compassion for his passengers and himself, Cook carefully navigates us to a place of forgiveness, patience, and, hopefully, peace.
Woodhall Press, 9781949116021, 234pp.
Publication Date: July 1, 2019
About the Author
In a former life, LaRue Cook was a senior editor at ESPN The Magazine and ESPN.com. After an Existential Crisis--and turning thirty--he retreated south to pursue his PhD in creative writing at Georgia State University, where he also teaches English composition and fiction writing. He holds a degree in journalism from the University of Tennessee at Knoxville and an MFA from Fairfield University in Connecticut. His nonfiction has appeared in such publications as ESPN The Magazine and Reader's Digest, while his fiction has appeared in Washington Square Review, Barely South Review, and Noctua Review, among other places. He currently resides in Decatur, Georgia, just east of Atlanta, where he's working on a collection of short stories. His home will always be Kingston, Tennessee, if only in spirit.