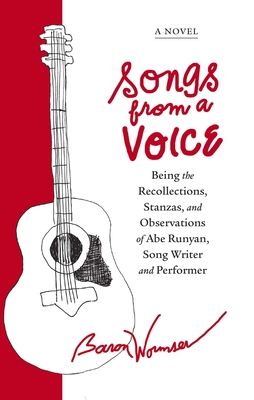 Songs from a Voice (Paperback)
Being the Recollections, Stanzas and Observations of Abe Runyan, Song Writer and Performer
Woodhall Press Llp, 9781949116120, 176pp.
Publication Date: June 15, 2020
* Individual store prices may vary.
Description
No one can speak for Bob Dylan except Bob Dylan. Fiction, however, has other thoughts and in Songs from a Voice, Being the Recollections, Stanzas and Observations of Abe Runyan, Song Writer and Performer Baron Wormser has created a narrator who offers a first-person take on the years that begin in the spaces of the upper Midwest and wind up in the streets of Greenwich Village. As a parallel figure, Abe puts forward a chain of circumstances, influences and predilections that lead the reader into the mystery of where one era-changing artist came from. The story that is told by Abe is not an echo of facts but an evocation of what went into the making of a musical soul, right down to the quatrains that he writes as part of his tale and as lyrical notes to himself. As a novel, Songs from a Voice is a homage, investigation, sly nod and, ultimately, an affirmation of the strength of one man's imagination.
"Baron Wormser's brave novel Songs from a Voice should join Todd Haynes's film I'm Not There, Michael Gray's monumental Bob Dylan Encyclopedia, and Dylan's Chronicles, Volume One in the canon of works-inspired-by-and-(mostly)about-Dylan. It reads like Theme Time Radio Hour with quatrains taking the place of songs and terrific lists abounding. Narrator Abe Runyon riffs on and fills out Dylan's Hibbing and Greenwich Village years in a voice that sounds hauntingly similar to present-day Bob. Along the way, snakes speak in rhyme and roads teach about time. It's the best kind of fan fiction: a labor of love that moves beyond its inspiration to touch upon America, music, poetry, and why art matters."
David Gaines, Author of In Dylan Town: A Fan's Life (University of Iowa Press)
"Baron Wormser's Abe Runyan draws Dylan's uncanny traces into relief with such compelling nuance that they fade into an entirely unique American voice, subsumed into the thin air of persuasion. With aching and evocative prose, what rises from the page is a Bildungsroman entirely its own, tangled up in blue, with a soul as unique and musical and convincing as Robert Johnson's devil."
David Ryan, author of Animals in Motion and Bookmarked: Malcolm Lowry's Under the Volcano