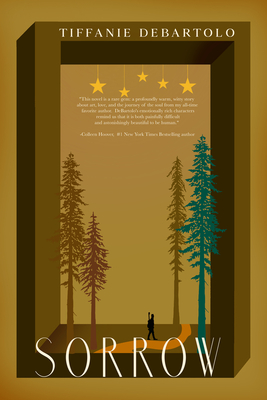 Sorrow
Paperback

* Individual store prices may vary.
Description
From Tiffanie DeBartolo, the author of God Shaped Hole, How to Kill a Rock Star, and Grace: The Jeff Buckley Story, comes Sorrow, a poignant story about friendship and love, art and music, and how these pursuits can save us from ourselves.

​Joe Harper has backpedalled throughout his life. A once-promising guitar prodigy, he's been living without direction since abandoning his musical dreams. now into this thirties, having retreated from every opportunity he's had to level up, he has lost his family, his best friend, and his own self-respect.​

But Joe finds an unlikely path to redemption when he starts working as a carpenter for the bohemian conceptual artist October Danko. The job returns him to his hometown, ​loaded with bittersweet reminders of his former life, in the ​shadows of his beloved redwood trees​. As Joe's relationship with October develops, he yearns to take a daring step toward a bold future, but struggles to escape the craven decisions of his past.

Sorrow is a stunning, moving novel that explores masculinity and suspended adolescence, all the while begging the questions:
Can courage be learned?
And is it ever too late to follow your heart?
Woodhall Press Llp, 9781949116304, 270pp.
Publication Date: October 20, 2020
About the Author
Tiffanie DeBartolo grew up in Youngstown, Ohio where she insists there was nothing to do but read and listen to music. It is no surprise then that after graduating high school a year early to study philosophy at UC Berkeley, she became a writer and founded a record label.
Tiffanie's most recent novel is Sorrow. Her previous works include God Shaped Hole (2002), How To Kill a Rock Star (2005), the graphic novel Grace: Based on the Jeff Buckley Story (2019), and the film Dream for an Insomniac (1996), which she wrote and directed.
She is the founder and Chief Executive Super Goddess of Bright Antenna Records, whose roster includes The Wombats, Sports Team, Wilderado, and Prep. She also cofounded the ShineMaker Foundation, a charity organization dedicated to making the world a better place. And she is a faculty member of the Jackson Hole Writers Conference, where she teaches writing every June.
In her spare time, she is a runner, hiker, yogi, world-traveler, cook, poet, and artist.
Tiffanie lives in Mill Valley, California with her husband Scott Schumaker and her two Irish Wolfhounds, Dipsea and Kazoo.