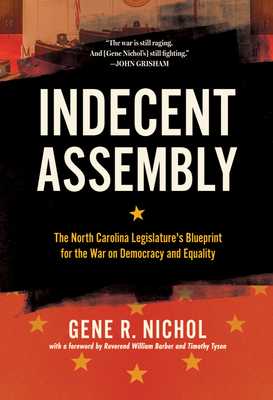 Indecent Assembly
The North Carolina Legislature's Blueprint for the War on Democracy and Equality
Paperback

* Individual store prices may vary.
Description
"The war is still raging. And Gene Nichol]'s still fighting." --John Grisham
North Carolina has, since 2013, undergone a greater political sea change than any other state. For the first time, seven years ago, state government became completely captured by a radicalized and aggressive Republican leadership determined to produce the most ultra-conservative political regime in the nation. In a remarkably brief time span, Republican lawmakers have moved successfully toward that goal. The New York Times refers to the project as "North Carolina's pioneering work in bigotry." Other states have begun to follow what they expressly deemed the "North Carolina playbook."
Indecent Assembly lays out in detail, and with no small dose of passion, the agenda, purposes, impacts, and transgressions of the Republican North Carolina General Assembly since it came to dominate life in the Tar Heel State. Nichol outlines, without holding punches, the stoutest war waged against people of color and low-income citizens seen in America for a half-century. All-white Republican caucuses, dominating both houses of the General Assembly, have behaved essentially like a White People's Party, without the nomenclature. Bold steps have also been taken to diminish the equal dignity of women and an internationally famed crusade against LGBTQ+ Tar Heels has capped off what has become a state-based battle against the Fourteenth Amendment. But the Republican General Assembly has not stopped with substantive legal changes. It has attacked the fundaments of American constitutional government. In 2019, the state of North Carolina, in short, is involved in a brutal battle for its own decency. If the contest is lost here, other states will likely abandon defining cornerstones of American liberty and equality as well. North Carolina today is not presented with the mere give and take of normal politics. It struggles over its meaning as a commonwealth and its future as a democracy.
The book is introduced with a foreword by Rev. William Barber, leader of the Moral Monday Movement in North Carolina and the Poor People's Campaign nationally, and Timothy Tyson, Duke University civil rights historian, activist, and author of The Blood of Emmett Till and Blood Done Sign My Name.
Blair, 9781949467277, 224pp.
Publication Date: April 14, 2020
About the Author
Gene R. Nichol is a law professor, editorial commentator, and author of The Faces of Poverty in North Carolina: Stories from Our Invisible Citizens (UNC Press, 2018) and a number of other books. He writes commentary for Raleigh News and Observer, Charlotte Observer, the Progressive Populist, and others. He is the Boyd Tinsley distinguished professor of law at the University of North Carolina. He was director of the UNC Poverty Center until it was closed by the UNC Board of Governors for publishing articles critical of the governor and General Assembly. Since 2015, his research has been supported by the North Carolina Poverty Research Fund. Nichol was president of the College of William & Mary (2005-2008), law dean at the University of Colorado (1988-1995), and dean at UNC from 1999-2005.