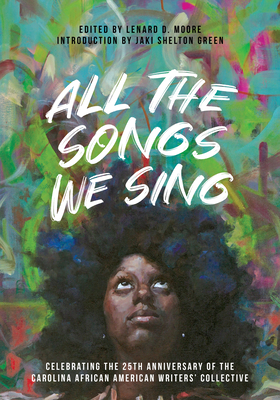 All the Songs We Sing
Celebrating the 25th Anniversary of the Carolina African American Writers' Collective
Paperback

* Individual store prices may vary.
Description
"An expansive spectrum of literary purpose and aesthetics that shine fiercely" --from the introduction by Jaki Shelton Green, North Carolina Poet Laureate
The Carolina African American Writers' Collective celebrates its twenty-fifth anniversary with All the Songs We Sing, an anthology of works by members of the Collective, edited by its founder, Lenard D. Moore. North Carolina Poet Laureate Jaki Shelton Green introduces the anthology, which includes works by Lenard D. Moore, Bridgette A. Lacy, Crystal Simone Smith, Evie Shockley, Camille T. Dungy, Carole Boston Weatherford, and many others. Individually, these poems, stories, and essays have helped these Carolinians voice their experiences, remind us of our history, and insist on change, and gathered together, their chorus is turned all the way up and demands to be heard. These writers have shaped the modern literary landscape of the Carolinas for the last twenty-five years and will continue to influence and inspire African-American writers for generations to come.
Blair, 9781949467338, 224pp.
Publication Date: June 2, 2020
About the Author
Lenard D. Moore is an internationally acclaimed poet and anthologist. His literary works have been published in more than fifteen countries and translated into more than a dozen languages. He is a U.S. Army Veteran. Moore is the author of The Geography of Jazz, A Temple Looming, Desert Storm: A Brief History, Forever Home, and The Open Eye, among others. He is the editor for One Window's Light: A collection of Haiku. He is the founder and executive director of the Carolina African American Writers' Collective and the Executive Chairman of the North Carolina Haiku Society. He was the first African American president of the Haiku Society of America. His awards include the North Carolina Award for Literature and the Haiku Museum of Tokyo Award. He teaches African American literature and creative writing at the University of Mount Olive, where he is the poet-in-residence.