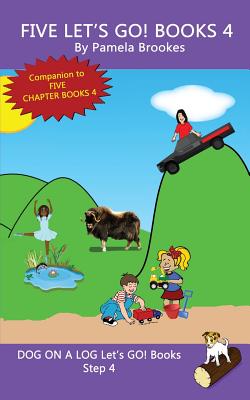 Five Let's GO! Books 4
Sound-Out Phonics Books Help Developing Readers, including Students with Dyslexia, Learn to Read (Step 4 in a Systemat
Paperback

* Individual store prices may vary.
Other Editions of This Title:
Hardcover (4/4/2020)
Description
5 Books in 1 Each book has 110 to 145 words. Great for kids who are not ready for the longer chapter books.
The DOG ON A LOG Book series helps kids, including kids with dyslexia, learn to read. They are sound-out books that start with just a few phonics rules. Each following Step of books adds a few more phonics rules and sight words. This gradual progression helps kids learn to read without feeling so overwhelmed.
New readers love reading books that look like "regular" books. They especially love that they get to read "real chapter books." Having multiple chapter books in each Step means struggling readers are more likely to master the phonics without memorizing the books.
Start anywhere in the series based on your child's reading skills. The word list below will help you decide where in the series your child should start.
Printable game boards, flashcards, handwriting sheets, and more are available to for additional practice. Information on the printables is provided in each book.
The (purple) Let's GO books have fewer words for new or less confident readers. The (red) chapter books are longer for more reading practice.
Books can be purchased individually or as collection volumes. This is a collection volume of five Step 4 Let's GO Books.
Research shows the most effective way to teach reading is with explicit systematic phonics. That means you teach just a few phonics rules then the student practices reading books with just the rules they have been taught. Each DOG ON A LOG Book also has a list of the included "sight words." Kids can learn those words before beginning each book. The listed sight words will be the only words in the book that cannot be sounded-out with the rules from the DOG ON A LOG Phonics Progression.
Many early reader books, leveled books, and even "Beginning Phonics Books" are written so they cannot be sounded-out. Kids often struggle when they can't sound out the words. However, kids who have been taught the phonics in DOG ON A LOG Decodable Books can be proud when they can read most words.
Additional information on using this series is available in the e-book HOW TO USE DECODABLE BOOKS TO TEACH READING.
DOG ON A LOG Books follow a structured literacy/Orton Gillingham phonics progression.
DOG ON A LOG "What Step Should We Start With?" Word List
Have your child read the following words. If they can't read every word in a Step, that is probably the step they should start with. For some kids, you may want to start at an earlier Step so they can build confidence with their reading abilities.
Step 1
fin, mash, sock, sub, cat, that, Dan's
Step 2
less, bats, tell, mall, chips, whiff, falls
Step 3
bangs, dank, honk, pings, chunk, sink, gong, rungs
Step 4
silk, fluff, smash, krill, drop, slim, whisk
Step 5
hunch, crate, rake, tote, inch, mote, lime
Step 6
child, molts, fold, hind, jolt, post, colds
Step 7
strive, scrape, splint, twists, crunch, prints, blend
Step 8
finish, denim, within, bathtub, sunset, medic, habit
Step 9
hundred, goldfinch, tree, wheat, inhale, play, Joe
Step 10
be, remake, spry, repeat, silo, sometime, pinwheel
If your child isn't ready for Step 1 books:
DOG ON A LOG Pup Books will help you teach them the essential Pre-Reading skills then the letters and how to sound-out words.
---Before the Squiggle Code (Pre-Reading Skills)
---The Squiggle Code (Learning Letters and Words)
---Kids' Squiggles (First Stories)
Dog on a Log Books, 9781949471090, 106pp.
Publication Date: October 10, 2017