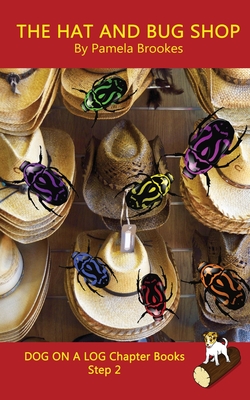 The Hat And Bug Shop Chapter Book (Paperback)
Systematic Decodable Books Help Anyone, including Folks with Dyslexia, Learn to Read with Phonics
Dog on a Log Books, 9781949471182, 42pp.
Publication Date: October 16, 2017
* Individual store prices may vary.
Description
Finally, a delightful book series that helps kids learn phonics rules step by step. Fun and engaging books designed for anyone learning to read with phonics, especially learners with dyslexia. Start anywhere in the series, according to your child's reading level.
"I want to get a red hat," Jan says
to her mom.
"Do you want to get a bug?" Mom
says.
Sight Words:
a, are, be, could, do, does, for, from, go, have, he, her, here, his, I, into, is, like, likes, my, of, OK, onto, or, puts, says, see, she, should, the, they, to, want, we, what, would, you, your
Approximately 990 total words
This is a Step 2 Chapter book.
The DOG ON A LOG Books series are for phonics readers and folks with a dyslexic learning style. They are Decodable books which means a learner who has been taught the phonics rules and the limited sight words in that book can sound them out and read them. They are systematic because one Step of books follows another. The words used reflect the inclusion of 1 to 3 new phonics rules in each Step. Each Step of books builds on the skills practiced in the prior Steps. There are five books at each Step.

The chapter books are written in a chapter format with one picture in most chapters. They are longer, have more detail, and sometimes offer more complexity than the Let's GO Books. They're great for practicing known and newly introduced phonics rules. They're also just fun reading.

DOG ON A LOG Let's GO Books are shorter versions of DOG ON A LOG Chapter books. Let's GO books tell the same stories with about 8 pictures and only a few sentences per page. They're perfect as an introduction to the new phonics rules or simply for fun reading for younger kids.
Most kids who read DOG ON A LOG Books are over-the-moon-proud that they can finally read a book without so much frustration. This builds confidence in new and struggling readers. Their parents are excited that, along with reading sight words, their kids can decode every word on every page. With each progressing Step the readers gain more confidence as the vocabulary, grammar, and stories become more complex and they see their skills and abilities growing with the books.
DOG ON A LOG Books Phonics Progression
Step 1
Consonants, primary sounds
Short vowels
Digraphs: ch, sh, th, wh, ck
2 and 3 sound words
Possessive 's
Step 2
Bonus letters (f, l,'s, z after short vowel)
"all"
-s suffix
Step 3
ang, ing, ong, ung, ank, ink, onk, unk
Step 4
Consonant Blends to make 4 sound words
3 and 4 sound words ending in -lk, -sk
Step 5
Digraph blends -nch to make 3 and 4 sound words
Silent e, including "-ke"
Step 6
Step 7
5 sounds in a closed syllable word plus suffix -s (crunch, slumps)
3 letter blends and up to 6 sounds in a closed syllable word (script, spring)
Step 8
Two syllable words with 2 closed syllables, not blends (sunset, chicken, unlock)
Paperbacks have black and white images. The books are optimized for learners with dyslexia. They have cream colored paper and 22 point Verdana font. Research has shown Verdana is one of the most dyslexia-friendly fonts