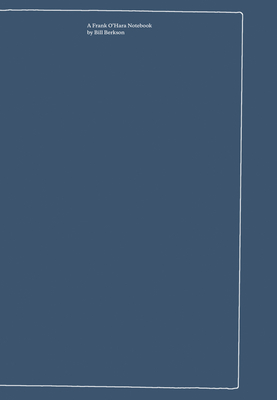 A Frank O'Hara Notebook
Hardcover

* Individual store prices may vary.
Description
A fascinating account of Frank O'Hara in the prime of his creative life in New York, told through notes, images, and poems by his friend Bill Berkson.
Poet and art critic Bill Berkson (1939–2016) had planned for many years to write a lengthy study on his friend and mentor Frank O'Hara (1926–1966) but died with the project still incomplete. This volume reproduces the sketchbook in which Berkson gathered notes, images, and poems about O'Hara, focusing on his memories of their collaborations in New York, from their initial meeting in 1960 to O'Hara's untimely death in 1966. A Frank O'Hara Notebook offers a fascinating first-person account of the heyday of O'Hara's creative life, and memorably sketches the heady social milieus of the poetry and art worlds of New York that O'Hara inhabited in the early 1960s. In addition to an exact-scale photographic reproduction of Berkson's handwritten notebook, this volume includes a typesetting of Berkson's notes and two texts on O'Hara derived from these notes published under Berkson's direction, titled "A Frank O'Hara File" and "What Frank O'Hara Was Like." The book shows the evolution of Berkson's ideas from notes to fragmentary phrases and sentences into finished pieces of writing. Ultimately, this collection reveals as much about Berkson's writing practice as it does about his famous subject and friend.
The book's translation of Berkson's handwritten notes and collaged material into type honors the idiosyncratic format of Berkson's handwritten text, precisely following the line breaks, capitalizations, and drawn graphic elements in the holograph. The book also includes an introduction by fellow New York School poet Ron Padgett and an afterword by Berkson's wife, curator Constance Lewallen.
Praise For A Frank O'Hara Notebook…
Inventive and idiosyncratic, it's a sublimely apt ode to O'Hara, as well as to the poetry and art scenes of 60s New York.
—The Guardian—

For those who love O'Hara's work, it should be an essential volume in their library.
—
Gay and Lesbian Review
—
A Frank O'Hara Notebook makes a fabulous gift for anyone who knew Berkson's writings, as well as a marvelous inheritance to younger readers who have maybe never read them, for they offer a suggestive model of how to think about writing and the life of the art writer.
—
Hyperallergic
—
For fans of Berkson and/or O'Hara, and for anyone interested in the intersection of painting and poetry, this book is indispensable. The book is a masterpiece of design and production.
—
The Rumpus
—
no place press, 9781949484014, 278pp.
Publication Date: April 30, 2019
About the Author
Bill Berkson (1939–2016) was a poet, critic, teacher, and occasional curator, active in the art and literary worlds of New York and the San Francisco Bay Area for six decades. He published some twenty volumes of poetry, including Portrait and Dream: New & Selected Poems in 2009 and Expect Delays in 2014.
or
Not Currently Available for Direct Purchase