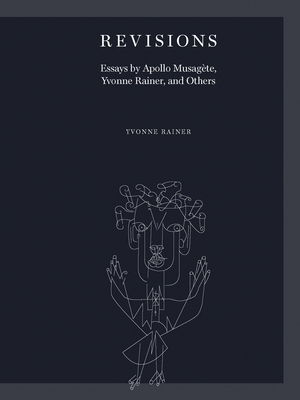 Revisions
Essays by Apollo Musagète, Yvonne Rainer, and Others
Paperback

* Individual store prices may vary.
Description
The final iteration of Rainer's dance rant A Truncated History of the Universe for Dummies, accompanied by texts offering a real-time account of Rainer's creative process.
Choreographer and filmmaker Yvonne Rainer has long investigated the ways in which movement can be a political act in and of itself—on the stage, on the screen, or at the lectern. In Revisions, Rainer pushes her interest in embodied activism to a new arena: what she calls the "dance rant." This volume includes the final iteration of Rainer's latest dance rant, entitled A Truncated History of the Universe for Dummies. This performance piece evolved in live presentations in Dublin, Stockholm, and New York before being expanded and adapted in written form here. In this now-completed work, Rainer mobilizes her rage and bafflement at contemporary political events through the guise of Apollo, Leader of the Muses.
Revisions also includes a compilation of emails and diary entries that provide a real-time account of Rainer's process of creating and workshopping a dance. "Pedagogical Vaudeville 3" reveals Rainer's consistent interest in reworking and reconsidering material across multiple mediums, formats, and contexts, and offers an unique glimpse at the working methods of one of this century's preeminent dance artists.
Bookended with an introduction by artist and scholar Gregg Bordowitz and an analysis of Rainer's AG Indexical with a Little Help from H. M. by dance historian Anna Staniczenko, these texts serve not only as a revision of the conventional understanding of five decades of Rainer's production, but also as a timely manual for performance as an act of resistance.
no place press, 9781949484052, 112pp.
Publication Date: August 25, 2020
About the Author
Yvonne Rainer (b. 1934) is a dancer, choreographer, and filmmaker. She is the author of Feelings Are Facts: A Life (MIT Press).

Gregg Bordowitz is an artist, writer, and Director of the Low Residency MFA Program at the School of the Art Institute of Chicago. Recipient of the 2006 Frank Jewitt Mather Award from the College Art Association, he is the author of The AIDS Crisis Is Ridiculous and Other Writings (1986–2003) (MIT Press) and General Idea: Imagevirus (Afterall Books/MIT Press).
or
Not Currently Available for Direct Purchase