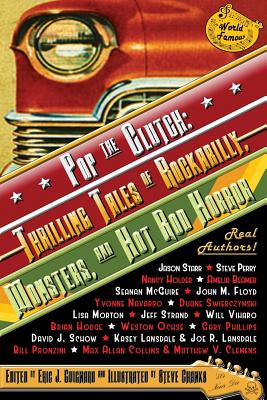 Pop the Clutch
Thrilling Tales of Rockabilly, Monsters, and Hot Rod Horror
Paperback

* Individual store prices may vary.
Other Editions of This Title:
Hardcover (1/14/2019)
Description
Welcome to the cool side of the 1950s, where the fast cars and revved-up movie monsters peel out in the night. Where outlaw vixens and jukebox tramps square off with razorblades and lead pipes. Where rockers rock, cool cats strut, and hot rods roar. Where you howl to the moon as the tiki drums pound and the electric guitar shrieks and that spit-and-holler jamboree ain't gonna stop for a long, long time . . . maybe never.
This is the '50s where ghost shows still travel the back roads of the south, and rockabilly has a hold on the nation's youth; where lucky hearts tell the tale, and maybe that fella in the Shriners' fez ain't so square after all. Where exist noir detectives of the supernatural, tattoo artists of another kind, Hollywood fix-it men, and a punk kid with grasshopper arms under his chain-studded jacket and an icy stare on his face.
This is the '50s of Pop the Clutch: Thrilling Tales of Rockabilly, Monsters, and Hot Rod Horror. This is your ticket to the dark side of American kitsch . . . the fun and frightful side
Table of Contents includes:
"The Golden Girls of Fall" by Seanan McGuire
"Sea Lords of the Columbia" by Weston Ochse
"Tremble" by Kasey Lansdale and Joe R. Lansdale
"The Demon of the Track" by Gary Phillips
"Outlawed Ink" by Jason Starr
"We Might Be Giants" by Nancy Holder
"Universal Monster" by Duane Swierczynski
"Draggers" by David J. Schow
"The Starlite Drive-In" by John M. Floyd
"Dr. Morbismo's InsaniTERRORium Horror Show" by Lisa Morton
"Hot Babe" by Bill Pronzini
"The Prom Tree" by Yvonne Navarro
"I'm with the Band" by Steve Perry
"Mystery Train: An Arcane Investigation" by Max Allan Collins and Matthew V. Clemens
"Lab Experiment Turf War" by Jeff Strand
"The She-Creature" by Amelia Beamer
"Fish out of Water" by Will Viharo
"I Was a Teenage Shroom Fiend" by Brian Hodge
Dark Moon Books, 9781949491012, 346pp.
Publication Date: January 14, 2019