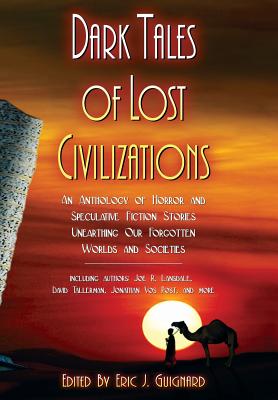 Dark Tales of Lost Civilizations
Hardcover

* Individual store prices may vary.
Other Editions of This Title:
Paperback (3/1/2012)
Description
Darkness exists everywhere, and in no place greater than those where spirits and curses still reside. Tread not lightly on ancient lands that have been discovered by this collection of intrepid authors.
In DARK TALES OF LOST CIVILIZATIONS, you will unearth an anthology of twenty-five previously unpublished horror and speculative fiction stories, relating to aspects of civilizations that are crumbling, forgotten, rediscovered, or perhaps merely spoken about in great and fearful whispers.
What is it that lures explorers to distant lands where none have returned? Where is Genghis Khan buried? What happened to Atlantis? Who will displace mankind on Earth? What laments have the Witches of Oz?
Answers to these mysteries and other tales are presented within this critically acclaimed anthology by the following authors.
"Introduction" by Eric J. Guignard
"Angel of Destruction" by Cynthia D. Witherspoon
"The Door Beyond the Water" by David Tallerman
"To Run a Stick Through a Fish" by Mark Lee Pearson
"Quivira" by Jackson Kuhl
"Directions" by Michael G. Cornelius
"Quetzalcoatl's Conquistador" by Jamie Lackey
"K nigreich der Sorge (Kingdom of Sorrow)" by C. Deskin Rink
"Gestures of Faith" by Fadzlishah Johanabas
"Bare Bones" by Curtis James McConnell
"British Guiana, 1853" by Folly Blaine
"The Nightmare Orchestra" by Chelsea Armstrong
"The Funeral Procession" by Jay R. Thurston
"Requiem" by Jason Andrew
"Gilgamesh and the by Mountain" by Bruce L. Priddy
"Buried Treasure" by Rob Rosen
"The Small, Black God" by Caw Miller
"In Eden" by Cherstin Holtzman
"We Are Not the Favored Children" by Matthew Borgard
"Rebirth in Dreams" by A.J. French
"Whale of a Time" by Gitte Christensen
"Sins of our Fathers" by Wendra Chambers
"The Talisman of Hatra" by Andrew S. Williams
"Sumeria to the Stars" by Jonathan Vos Post
"The Tall Grass" by Joe R. Lansdale
"The Island Trovar" by JC Hemphill
(with interior illustration by Ron Perovich)
Dark Moon Books, 9781949491067, 388pp.
Publication Date: September 3, 2018