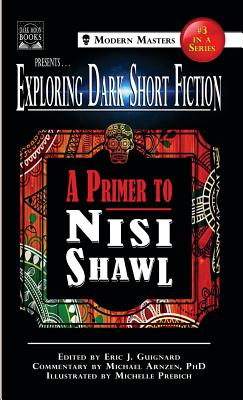 Exploring Dark Short Fiction #3 (Hardcover)
A Primer to Nisi Shawl
Dark Moon Books, 9781949491098, 188pp.
Publication Date: December 27, 2018
Other Editions of This Title:
Paperback (7/10/2017)
Paperback (9/9/2019)
Paperback (5/25/2018)
Paperback (12/18/2018)
Hardcover (9/9/2019)
Hardcover (12/27/2018)
Hardcover (12/27/2018)
* Individual store prices may vary.
Description
Praised by literary journals, news outlets, and leading fiction magazines, Nisi Shawl is celebrated as an author whose works are lyrical and philosophical, speculative and far-ranging; "...broad in ambition and deep in accomplishment" (The Seattle Times). Besides nearly three decades of creating fantasy and science fiction, fairy tales, and indigenous stories, Nisi has also been lauded as editor, journalist, reviewer, teacher, speaker, afrofuturist, and proponent and mentor of feminism, African-American fiction, and other pedagogical issues of diversity.
Dark Moon Books and editor Eric J. Guignard bring you this introduction to her work, the third in a series of primers exploring modern masters of literary dark short fiction. Herein is a chance to discover--or learn more of--the vibrant voice of Nisi Shawl, as beautifully illustrated by artist Michelle Prebich.
Included within these pages are:
- Six short stories, one written exclusively for this book
- Author interview
- Complete bibliography
- Academic commentary by Michael Arnzen, PhD (former humanities chair and professor of the year, Seton Hill University)
- ... and more
Enter this doorway to the vast and fantastic: Get to know Nisi Shawl.
Table of Contents includes:
- Introduction by Eric J. Guignard
- Nisi Shawl: A Biography
- The Beads of Ku (fiction)
- The Beads of Ku: A Commentary
- Otherwise (fiction)
- Otherwise: A Commentary
- Just Between Us (fiction)
- Just Between Us: A Commentary
- At the Huts of Ajala (fiction)
- At the Huts of Ajala: A Commentary
- Street Worm (fiction)
- Street Worm: A Commentary
- Conversion Therapy (fiction)
- Conversion Therapy: A Commentary
- Why Nisi Shawl Matters by Michael Arnzen, PhD
- In Conversation with Nisi Shawl
- Written On The Water: An Essay by Nisi Shawl
- A Bibliography of English Language Fiction for Nisi Shawl