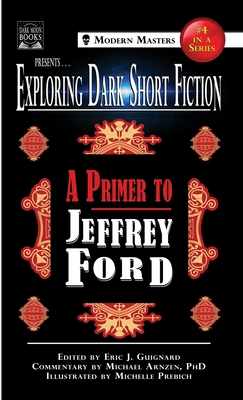 Exploring Dark Short Fiction #4 (Hardcover)
A Primer to Jeffrey Ford
Dark Moon Books, 9781949491111, 234pp.
Publication Date: September 9, 2019
Other Editions of This Title:
Paperback (7/10/2017)
Paperback (9/9/2019)
Paperback (5/25/2018)
Paperback (12/18/2018)
Hardcover (12/27/2018)
Hardcover (12/27/2018)
Hardcover (12/27/2018)
* Individual store prices may vary.
Description
Author of the fantastic and the bizarre, Jeffrey Ford's work has won awards and acclaim across the globe for his stories of humor, horror, and unconventional beauty. "Powerful and disturbing in the best possible way" (Gawker) and "Intensely engaging" (Publishers Weekly), Ford crosses speculative genres with literary ideals, which has earned him the World Fantasy Award (seven times), the Shirley Jackson Award (four times), the Edgar Allan Poe Award, and France's vaunted Grand Prix de l'Imaginaire.
Dark Moon Books and editor Eric J. Guignard bring you this introduction to his work, the fourth in a series of primers exploring modern masters of literary dark short fiction. Herein is a chance to discover--or learn more of--the extraordinary voice of Jeffrey Ford, as beautifully illustrated by artist Michelle Prebich.
Included within these pages are:
- Six short stories, one written exclusively for this book
- Author interview
- Complete bibliography
- Academic commentary by Michael Arnzen, PhD (former humanities chair and professor of the year, Seton Hill University)
- ... and more
Enter this doorway to the vast and fantastic: Get to know Jeffrey Ford.
Table of Contents includes:
- Introduction by Eric J. Guignard
- About Jeffrey Ford
- A Natural History of Autumn (fiction)
- A Natural History of Autumn: A Commentary
- Malthusian's Zombie (fiction)
- Malthusian's Zombie: A Commentary
- Boatman's Holiday (fiction)
- Boatman's Holiday: A Commentary
- The Night Whiskey (fiction)
- The Night Whiskey: A Commentary
- A Night in the Tropics (fiction)
- A Night in the Tropics: A Commentary
- Incorruptible (fiction)
- Incorruptible: A Commentary
- Why Jeffrey Ford Matters by Michael Arnzen, PhD
- In Conversation with Jeffrey Ford
- Scratching the Surface: An Essay by Jeffrey Ford
- A Bibliography of English Language Fiction for Jeffrey Ford