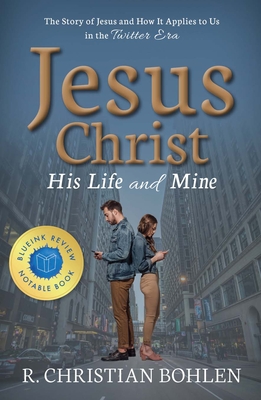 Jesus Christ, His Life and Mine (Paperback)
The Story of Jesus and How It Applies to Us in the Twitter Era
Carpenter's Son Publishing, 9781949572001, 256pp.
Publication Date: April 1, 2019
* Individual store prices may vary.
Description
". . . highly readable . . . superb . . . theologically sound and succinct. . . personable and energetic. . ." - BlueInk Reviews, starred review ". . . eloquent and inviting. . . makes all the elements of the Jesus] narrative feel fresh. . . bracingly enthusiastic. . ." -Kirkus Reviews Finally A delightfully simple, fresh approach to the life and teachings of Jesus Christ for today's adults and youth. Watch it all happen on this historically accurate guided tour through Jesus's life―like you are there―from birth to resurrection. With love, hope, and even humor, come to know Him as a real person. Watch as He dramatically unveils Himself as the God of all creation and the Savior of the world. Find insights and solutions for even your toughest, modern problems. No matter where you are on your spiritual journey, the Spirit of God will whisper how it all applies to your life as you ponder the thought-provoking questions at the end of most chapters. The non-judgmental tone, evidence-oriented approach to building faith, and short chapters make this the ideal book about Christ for today's insanely busy, sometimes skeptical readers. This book takes a "Shared Faith Perspective" by focusing on the common core of Christian beliefs instead of focusing on denominational differences. The real joy of being a Christian comes when we truly believe in Christ, love Him, and strive to follow Him. But how can we do that without knowing the details of His life? This book takes the reader's gospel experience to the next level by bringing us right beside Jesus. And for all of us living in the "Twitter era," the simple explanations and explicit connections to modern situations make His light more applicable and satisfying than ever.