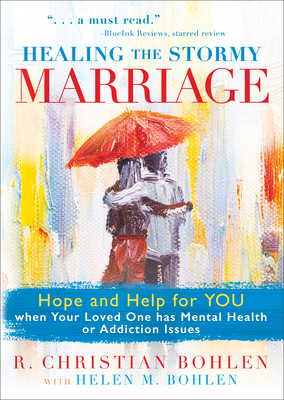 Healing the Stormy Marriage
Hope and Help for You When Your Loved One Has Mental Health or Addiction Issues
Paperback

* Individual store prices may vary.
Description
Feel Better (without Changing your Spouse)
What if you no longer agonized about how to deal with your mentally ill or addicted spouse because YOU felt better, more confident, and more in control of your life?
Imagine waking up tomorrow with a new sense of hope and direction because you understand the secrets to living successfully with an unstable spouse (or you see it is time to protect yourself and separate). How? By embracing the remarkably easy-to-read recommendations from the husband-and-wife author team who beat all the odds to find happiness in marriage despite multiple mental illness diagnoses (each) In spite of family members and friends persuading them to call it quits, they found power in their faith and developed new skills recommended by world-renowned mental health and marriage researchers--now neatly interwoven in this groundbreaking volume--for
you
. Find relief from the relentless mental ping pong, doubts, resentment, fear, and helplessness:
Give yourself permission to care for yourself first (and see what God thinks about that).
Learn how to feel your feelings the healthy way (which most spouses are not doing).
Discover how to truly connect to godly power that comforts, guides, and lifts.
Understand how your spouse may want to be loved differently than you think.
See which of your efforts are being wasted (or doing more harm than good).
Feel understood--perhaps for the first time ever--as you see yourself in the stories.
Be at peace with the decision to stay in the marriage or to separate (and learn how).
Readers love the format. Chapters are named by the most common, bedeviling frustrations that spouses of the mentally ill and addicted experience, such as:
It's not fair.
Can I survive this?
My needs are not being met.
My spouse is walking all over me
My hopes for my life are unraveling.
Our life is so chaotic I can't plan anything
Mental health professionals and spiritual advisors contributed to the design and contents of this meticulously reviewed resource with one objective, stated in the book:
"If spouses of the mentally ill or addicted can be spiritually strengthened and learn practical things they can do independently, more marriages can be saved."
See that you are not alone as you peer into the inner lives and thoughts of spouses who experienced gut-wrenching anguish and the exhausting effects of mental illness on a relationship. The Bohlen's conflicts, weaknesses, and personal growth are on transparent display--each from their own perspective--with harrowing stories from their incredible thirty-five year journey woven into each chapter.
What critics and readers are saying . . .
. . . a must read. (BlueInk Reviews, starred review) . . . highly recommended. (Midwest Book Review) . . . empathetic . . . relatable . . . practical . . . warm and inviting . . . (BookLife Review) . . . profoundly helpful and moving . . . full of hope and wisdom . . . spiritually sound . . ." (Robert Reich, synod leader and pastor) ". . . opened my eyes about ways to improve my own marriage of 41 years." (Mardie, reader)
Start reading today. Experience instant hope and increasing relief as you discover what's been possible for you all along.
Clovercroft Publishing, 9781949572773, 208pp.
Publication Date: November 1, 2021