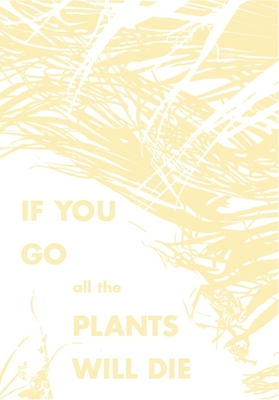 If You Go, All the Plants Will Die
Paperback

* Individual store prices may vary.
Description
Like a country song but without the country part, If You Go, All the Plants Will Die explores failed relationships through dead plants.
While living in Las Vegas and suffering through the stages of a deteriorating relationship, Fred Mitchell became hyper-aware of dying plants all around, mirroring and mocking his private life. He decided to embrace the absurdity and began documenting the haunting flora both in nature and in the studio. The book has a hand-crafted feel - the pages are semi-transparent to allow color fields to come through and impact the imagery, and the book is saddle-stitched with a silk-screened cover.
Yoffy Press, 9781949608243, 112pp.
Publication Date: June 29, 2021
About the Author
Fred Mitchell is a German-born American photographer working in Los Angeles. He holds a BFA and MFA in photography from the University of Alabama, Birmingham and University of Nevada at Las Vegas, respectively. Upon completion of his degrees he has worked as an adjunct professor, art director, and photographer all while maintaining his practice as a fine artist. Fred regularly explores process & project-based work, where he researches and explores topics organically while he constructs a body of work. Often, his projects weave multiple seemingly unrelated themes to create complex visual narratives with the intention of unique experiences to be gleaned upon multiple viewings. Derrick C. Brown is a novelist, comedian, poet, and storyteller. He is the winner of the 2013 Texas Book of The Year award for Poetry. He is a former paratrooper for the 82nd Airborne and is the owner and president of Write Bloody Publishing, which Forbes and Filter Magazine call "...one of the best independent poetry presses in the country." He is the author of eight books of poetry and three children's books. The New York Times calls his work, "...a rekindling of faith in the weird, hilarious, shocking, beautiful power of words." He lives in Los Angeles, California.