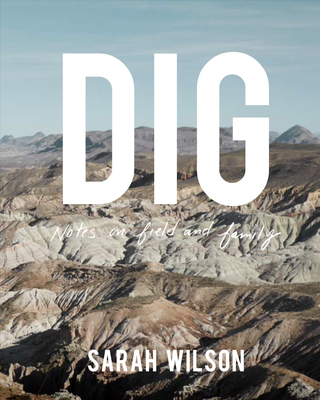 Dig
Unearthing Dinosaurs and Family Bonds
Hardcover

* Individual store prices may vary.
Description
Before he died, photographer Sarah Wilson's grandfather gave her three black metal boxes filled with faded Kodachromes. The images featured geologic charts, rock formations, bone fragments and skulls, and landscapes from his annual digs in West Texas and Big Bend National Park. These were his teaching slides from when he was a professor of Geology and Paleontology at the University of Texas. Holding them up to the light, Wilson realized that she and her grandfather photographed some of the exact same desert landscapes, from the same vantage points, only fifty years apart. This shared connection ignited an adventure and a long-term project, featured in the pages of her first book, DIG.
Wilson joins paleontologists on digs every winter in the Big Bend area, searching for bones and photographing the same stark desert landscapes featured in those vintage 35mm transparencies. But her work is not just an homage to her grandfather. She has created conceptual self-portraits in the style of geology and anatomy charts, combining the personal and the scientific. For Sarah, these annual digs are a pilgrimage to an origin story that reaches beyond traceable generations. Each bone collected is evidence of the slow, significant work of evolution, serving as a bracing reminder that we, as humans, sit at the very end of that timeline.
Yoffy Press, 9781949608267, 96pp.
Publication Date: November 29, 2022
About the Author
Sarah Wilson is an Austin-based cinematographer and photographer working for magazines such as The New York Times Sunday Magazine, Time, The Atlantic Monthly, Texas Monthly, Mother Jones, and others. Wilson's portrait series about an East Texas town in the aftermath of a hate crime, titled Jasper, Texas: The Road to Redemption, received multiple grants, toured seven cities in Texas, and showed at the White Box Gallery in New York City. With Blind Prom, Wilson volunteered as the prom night photographer at the Texas School for the Blind for ten years. Blind Prom was awarded the PhotoNOLA Review Prize, and showed at New York's Foley Gallery, the New Orleans Photo Alliance Gallery and at China's Lishui Photography Festival. Her work has been acquired by the permanent collections at the Museum of Fine Arts Houston, the Harry Ransom Center at the University of Texas, and the Lishui Photography Museum of China. Wilson worked as Director of Photography and Executive Producer on the film, TOWER, awarded Best Historical Documentary Emmy in 2018, and she and her husband, Keith Maitland, have just completed the documentary feature, Dear Mr. Brody. With her current photographic series, DIG, Wilson explores her grandfather's life's work as a paleontologist, which ignites her own search for fossils and existential perspective in the West Texas desert.
or
Not Currently Available for Direct Purchase