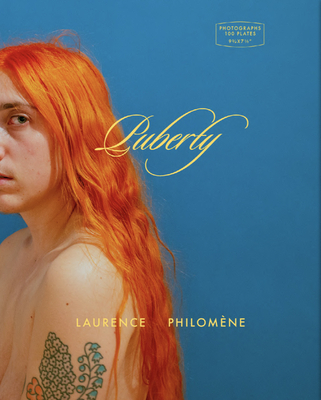 Puberty
Exploring Hormone Replacement Therapy in a Non-Binary Trans Person
Hardcover

* Individual store prices may vary.
Description
Gender is a journey. It lasts a lifetime, leading your body through a path of self-discovery, experiences and, sometimes, restrictions. For some, the gender experience leads them beyond the binary. And this is the case for Laurence Philom ne. - British Journal of Photography, photobooks to take note of
Puberty is a self-portrait project which looks at the intimate and vital process of self-care as a non-binary transgender person undergoing hormonal replacement therapy (HRT). Shot over a period of two years, it combines surreal colours and mundane environments to document daily moments and slow, subtle physical changes occurring during Philomene's transition. Looking at HRT as a process without a fixed end goal, Puberty challenges viewers to consider identity beyond binaries.
On one level these photos are about the photographer's personal experience of transitioning. At the same time, Philom ne's images capture what has become a globalized human experience, as the difficulties of self-care at home and the pressures of productivity have grown more relevant during the coronavirus pandemic. - CNN style
Yoffy Press, 9781949608274, 288pp.
Publication Date: May 3, 2022
About the Author
Laurence Philomene is a photographer based in Montreal, Canada. Laurence makes colourful work that centres queer and trans experiences, often through long-form and autobiographical projects. Laurence's work is informed by their lived experiences as a chronically ill, non-binary transgender artist coming of age amid the rise of social media. Since gaining an interest in image-making in their teenage years, they have used photography as a space to investigate masculinity and femininity, exploring how the two can co-exist outside of the binary. Through high-saturated, cinematic and caring images, their work celebrates trans existence, and studies identity as a space in constant flux. Laurence aims to work in collaboration with every person they photograph - creating striking, intimate portraits that celebrate the beauty in every human being. Instantly recognizable by their signature use of colour and daylight, Laurence's photographs humanize an identity that has been historically marginalized, and acts as a love letter to their community. - Laurence's work is published internationally in the likes of Vice, Courrier International, Dazed, I-D, Broadly, Teen Vogue, CBC arts, Wonderland, Bomb Magazine, Refinery29, Artsy and more. Their work has been presented in over 40 exhibitions worldwide, including solo exhibits in Toronto, Montreal, Berlin and Kracow. Laurence is a recipient of the Getty Images Creatives In Quarantine Bursary (2020), the Lucie Foundation emerging artist scholarship (2019), and the 2020 Women Photograph mentorship program. They were named as part of Adweek's creative 100 list in 2018, presented their work at the 2019 Cannes Lyons festival, and served as a judge for the 2019 Getty Images Creative Bursary.