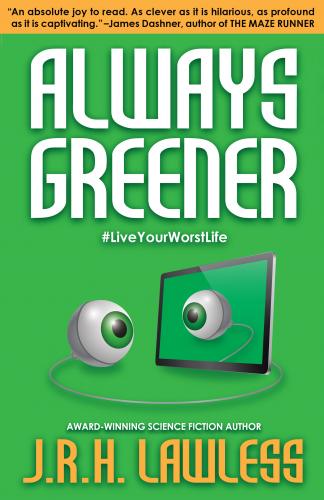 Always Greener (Paperback)
Uproar Books, 9781949671049, 292pp.
Publication Date: March 1, 2020
* Individual store prices may vary.
Description
In the year 2072, new technology allows the television to be broadcast straight into and out of the human eye. When a reality show offers a lifetime of lazy luxury to one person living the world's worst life, everyone is out to prove just how bad they've got it. Clever, hilarious, poignant, and relevant, this sci-fi satire mixes the whimsical wordplay of Douglas Adams with the bleak social commentary of "Black Mirror" at its best.
About the Author
Born in Newfoundland, Canada, raised in France, and come into his own as an author while living near an 12th century abbey in rural England, J.R.H. Lawless is an attorney by day and a speculative fiction author by night, penning novels and short stories, mostly in adult Science Fiction which has been a lifelong passion for him.

He draws on his education and professional experience, including at Sciences Po Paris and the French National Assembly, to craft worlds that look ahead to the political, social, and economic challenges that face us all, both in the near and the more distant future, as humanity moves out into the Solar System and beyond. He also draws on his deep-grained love of Terry Pratchett and Douglas Adams to make sure his worlds are always full of tongue-in-cheek humour, and never take themselves quite too seriously, even when the subject matter itself could not be more serious.

Now living and writing in Atlantic Canada with his beautiful family, Lawless looks forward to sharing his worlds with as many people as possible.
Praise For Always Greener…
"An absolute joy to read. As clever as it is hilarious, as profound as it is captivating." –James Dashner, Author of The Maze Runner

"A stinging science fiction satire that takes the downsides of modern living to their hilarious and horrifying conclusion." – Foreword Reviews

"A cultured, witty, and very British attack on vapid reality TV values, set in an empty-souled tomorrow." –Kirkus Reviews