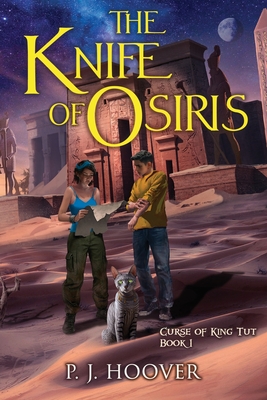 The Knife of Osiris
Paperback

* Individual store prices may vary.
Description
King Tut used to rule Egypt. Now he's stuck in Middle School.
You'd think it would be great being an Egyptian demigod, but if King Tut has to sit through eighth grade one more time, he'll mummify himself. Granted the gift of immortality by the gods-or is it a curse?-Tut has been stuck in middle school for ages. Even worse, evil General Horemheb, the man who killed Tut's father and whom Tut imprisoned in a tomb for three thousand years, is out and after him. The general is in league with the Cult of Set, a bunch of guys who worship one of the scariest gods of the Egyptian pantheon-Set, the god of Chaos. The General and the Cult of Set have plans for Tut...and if Tut and his cat Horus can't find a way to keep out of their clutches, he'll never make it to the afterworld alive.
Don't miss this first adventure in the Curse of King Tut Series series perfect for Rick Riordan fans
Please note: This book was originally published as Tut: The Story of My Immortal Life in 2014, Copyright (c) P. J. Hoover
Roots in Myth, 9781949717167, 304pp.
Publication Date: July 24, 2020