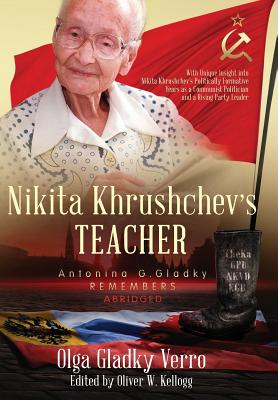 Nikita Khrushchev's Teacher
Antonina G. Gladky Remembers: With Unique Insight into Nikita Khrushchev 's Politically Formative Years as a Communist
Hardcover

* Individual store prices may vary.
Other Editions of This Title:
Paperback, Abridged (12/28/2018)
Description
Nikita Khrushchev's Teacher memoir is intertwined with history as lived, documented, and remembered by Antonina G. Gladky, one of the millions of women, caught in the whirlwind of catastrophic historical events of the twentieth-century Russia and the Soviet Union. The events, written and narrated, tell with the authentic voice her life story that is personal in detail and historical in scope. It documents how Russian Revolution, Civil War, Communist Party and Bolshevik totalitarian dictatorial regime, and Stalin's bloody terror shaped her fate.
The story begins with the peaceful life of Antonina ancestors in Old Russia and her happy childhood growing up in a small provincial town in southeastern Ukraine. Antonina's family tragedy struck at the time when she was starting her independent life as a teacher.
But the course of her life had changed forever when she married Orest, her former student and White Army veteran, who returned home after fighting Reds in the last battles for Crimea.
Their family life became a struggle to survive not only the adversities imposed by the Soviet Government on its people but also to prevent her husband from being caught by the State secret police. To evade inquiries into his White Army veteran past, they moved from place to place in their native Ukraine.
The book has a bonus for the memoir readers, history buffs and historians - the unique insight into Nikita Khrushchev's politically formative years as a Communist politician and a rising party leader.
Nikita Khrushchev's Teacher is abridged from "In the Web of History: Old Russia and Soviet Union" - Book One of Historical Family Memoirs
Ogvam Books, 9781949748079, 424pp.
Publication Date: January 15, 2019