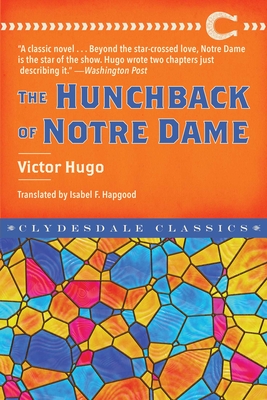 The Hunchback of Notre Dame (Clydesdale Classics) (Paperback)
Clydesdale, 9781949846157, 384pp.
Publication Date: June 4, 2019
Other Editions of This Title:
Digital Audiobook (9/30/2009)
Paperback (11/8/2016)
Paperback (4/24/2019)
Paperback (10/30/2018)
Paperback (5/1/2013)
Paperback (9/24/2013)
Paperback (11/14/2018)
Paperback (3/13/2014)
Paperback (3/3/2014)
Paperback (4/21/2019)
Paperback (2/17/2017)
Paperback (5/28/2019)
Paperback (9/29/2018)
Paperback (1/6/2014)
Hardcover (10/30/2018)
Hardcover (5/28/2019)
* Individual store prices may vary.
Description
"As much a love letter to the cathedral as it is the story of two doomed lovers." —Smithsonian Magazine

Written in 1831, The Hunchback of Notre Dame by Victor Hugo is a beloved French gothic novel which centers around the wondrous Notre Dame Cathedral in Paris, France. Set during the reign of King Louis XI, we are introduced to the gypsy dancer Esmerelda. A beautiful girl, both inside and out, Esmerelda captures the hearts of everyone around her, including Captain Phoebus, Pierre Gringoire, and the hunchback Quasimodo, who is hidden away in the tower of Notre Dame as a bell ringer.

Unfortunately, Esmerelda has also caught the attention of Archdeacon Claude Frollo, Quasimodo's abusive guardian. Frollo battles with his lust, eventually succumbing, leading him to pursue Esmerelda while leaving morality behind.
 
A beautifully written novel about love, lust, and thirteenth-century Paris, The Hunchback of Notre Dame will leave readers both marveling at the beauty of Notre Dame and reeling at the lengths that people will go for love.

Packaged in handsome, affordable trade editions, Clydesdale Classics is a new series of essential works. From the musings of literary geniuses such as Nathaniel Hawthorne in The Scarlet Letter to the striking personal narrative of Harriet Jacobs in Incidents in the Life of a Slave Girl, this new series is a comprehensive collection of masterpieces by some of the most famous writers in history.
 
About the Author
Victor Hugo was a French poet, novelist, and dramatist. Born in 1802, Hugo is considered one of the best authors in French history and was a leader of the Romantic literary movement. Two of his most famous works are The Hunchback of Notre Dame (1831), which was written to shame the people of Paris into restoring the neglected Notre Dame Cathedral, and Les Misérables (1862), written about social misery and injustice in France.
 
or
Not Currently Available for Direct Purchase