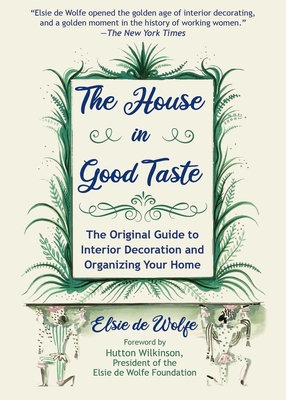 The House in Good Taste
The Original Guide to Interior Decoration and Organizing Your Home
Paperback

* Individual store prices may vary.
Other Editions of This Title:
Hardcover (10/20/2018)
Paperback (10/12/2018)
Hardcover (10/31/2018)
Hardcover (10/12/2018)
Paperback (10/20/2018)
Paperback (11/8/2018)
Paperback (10/13/2018)
Hardcover (11/8/2018)
Hardcover (8/12/2015)
Hardcover (10/9/2018)
Paperback (10/31/2018)
Hardcover (10/13/2018)
Hardcover, Large Print (8/18/2008)
Paperback, Large Print (10/11/2007)
Paperback (5/29/2008)
Paperback (12/13/2017)
Paperback (5/17/2018)
Description
Before there was Marie Kondo, there was Elsie de Wolfe with
The House in Good Taste 
to teach you how to clean, tidy up, and declutter. Originally published in 1914, this comprehensive collection is perfect for anyone interested in the history of interior decorating! Compiled of articles and narratives by Elsie de Wolfe, the original leading lady for interior decoration and entrepreneurship, along with classic black-and-white photos, this inspired guide is an inside look at the style of early twentieth-century interior decoration. In this book, you'll learn how to decorate:
Walls
Hallways and staircases
Bedrooms
Dining rooms
Doors and windows
And more!
Elsie de Wolfe was considered the pioneer for women in both interior decoration and business. Confident and ambitious she worked her way up to greatness, coining the industry of Interior Decorating. Her style was founded on "simplicity, suitability, and proportion," making the most out of space and color.  She did not care for extravagance, but valued architectural history, romantic tradition, and harmony and intimacy.
The House in Good Taste
is still relevant today.
Clydesdale, 9781949846171, 360pp.
Publication Date: August 25, 2020
About the Author
Elsie de Wolfe (aka Lady Mendl) is known for inventing the interior design industry. Not only did her confidence and talent launch the originally unheard-of career path, her capability led her to become one of the foremost woman entrepreneurs. She was one of the first women to embrace the press, investing her name in advertising for her business. She was not only invested in interior design, but also in Broadway and Hollywood, backing big names such as Cole Porter and Jerome Kern. She died in Versailles, France in 1950.

Hutton Wilkinson is the President of the Elsie de Wolfe Foundation as well as the Anthony and Elizabeth Duquette Foundation For The Living Arts. He grew up in his father's architectural office and was able to intern under great American designer, Tony Duquette. He has written three books: Tony Duquette (2007), More is More, Tony Duquette (2011), and the two volume set The Walk to Elsie's (2016).