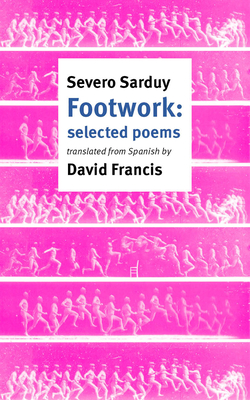 Footwork
Selected Poems
Paperback

* Individual store prices may vary.
Description
Poetry. Latinx Studies. LGBTQIA Studies. Cuban Studies. Translated by David Francis. Cuban writer Severo Sarduy was one of the most groundbreaking Latin American literary figures of the 20th-Century. His poems are acrobatic in content and form, innovative, and also part of a deep lineage and web of connection. David Francis translated the poems from Spanish into a gripping English. He writes, FOOTWORK is a body of work that sings on its own, that celebrates the carnal life, the sensual experiences of dance, of painting, food, music, and sexual pleasure, but that also recognizes --in these pleasures --the imminence of one's passing.
Although Sarduy's novels have been translated into English and received praise from such writers as Roland Barthes, Richard Howard, and James McCourt, this is the first collection of his poetry to appear in English translation. FOOTWORK represents work from throughout Sarduy's life, following the thrilling trajectory of a great thinker.
Sarduy invents new forms to engage questions of identity, specifically how his own and Cuba's Spanish, African, and Chinese heritage is intrinsically intertwined with Cuba's history of slavery and indentured labor. As Francis writes, Severo Sarduy was not known to follow convention. Nor did he think that conventional approaches to storytelling or lyrical composition could capture the complexities of human behavior or personal and national identity. The title, FOOTWORK, recognizes how Sarduy's poems deliver devastating wit, which lands on its prototypical feet or adroitly maneuvers, purposefully, around naming objects, people, or body parts and toward unexpected endings, writes Francis. The poetry in FOOTWORK makes it clear why Gabriel Garc -a M rquez once called Sarduy the best writer in the Spanish language.
Baroque, yes, as we expect from the great Severo Sarduy: but these poems are also severe, mathematical, futurist, neoclassical, occasional, private, courtly, and lubricated. Some of the poems come from the heady world of poststructuralism, but most come from a Caravaggio-like sepulchral grotto, where a lush and explicit eroticism meets up with the sculpted and the shaped. Fixity is everywhere in this volume: fate fixes Sarduy, just as the seam between sex and language fixates his verse. David Francis's translations are a labor of love, executed with ingenuity and a voluptuary fineness. --Wayne Koestenbaum
Circumference Books, 9781949918021, 264pp.
Publication Date: February 1, 2021
or
Not Currently Available for Direct Purchase