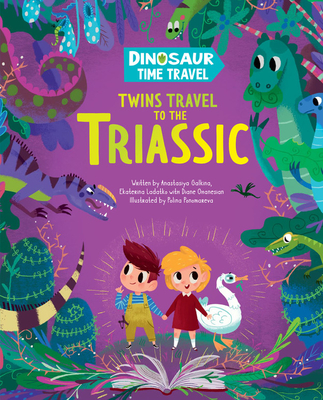 Twins Travel to the Triassic (Dinosaur Time Travel) (Hardcover)
Clever Publishing, 9781949998252, 48pp.
Publication Date: June 9, 2020
* Individual store prices may vary.
Description
Discover the land of dinosaurs!
After uncovering a magical book, a brother and sister duo are whisked away, soon finding themselves
walking among the dinosaurs.
The dynamic duo have found themselves transported to the
Triassic Era... more than 250 million years ago!
This fantastical story introduces early readers to a variety of dinosaurs in the most entertaining way. Children will be swept away on this prehistoric adventure as they explore these colorful pages.
A glossary at the end of the book provides fascinating facts about favorite dinosaurs that roamed the earth during the Triassic Era.
The second book in the series, TWINS TRAVEL TO THE JURASSIC ERA, is a wonderful companion book, featuring different dinosaurs and facts.
Add them both to your child's home library!
About the Author
Clever Publishing was founded in 2010 with the purpose of changing children's lives for the better. We create a world full of fascinating experiences for families through our books, games, sets, and series. Focusing on Pre-school and Edutainment, we've developed a wide range of innovative formats with modern teaching techniques. Kids love to read, touch, and play while learning, so our program includes products for all ages, including box sets; board books; puzzle books; learning flash cards; interactive coloring, activity, and word play formats; and boards games for the entire family. Our dream team - more than 100 employees worldwide - have a comprehensive understanding and knowledge of children's books. With this expertise, we present products that are fun, entertaining, and vibrant. We are modern and educational and strive to always emphasize the importance of first experiences. We connect to the needs of busy parents and aim to enrich the time spent with their children. Our goal is to make children - as well as their parents happy!