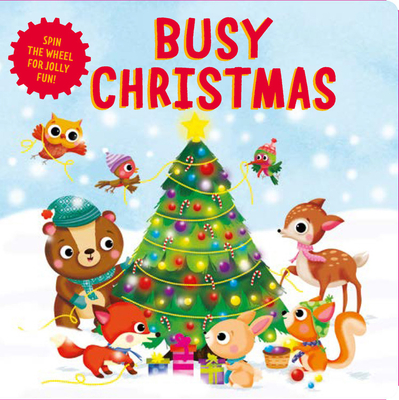 Busy Christmas (Clever Wheels) (Board book)
Clever Publishing, 9781949998351, 8pp.
Publication Date: October 15, 2019
* Individual store prices may vary.
Description
Spin the wheel for a
festive learning adventure! Busy Christmas
is an entertaining way to learn basic concepts while celebrating the holidays with Santa and his cuddly animal helpers!
Includes a sturdy, spinning wheel mechanism for toddlers to play with as they read along.
Colorful illustrations and the interactive format are a great combination for keeping youngsters engaged.
Busy Christmas not only introduces preschoolers to basic concepts but also helps them develop their fine motor skills.
About the Author
Rachael McLean is a children's illustrator living in a lovely coastal town in Australia. Her illustrations can be found worldwide in beautiful kid's books and on pretty products, wall art, greeting cards, editorials and websites. Her work has been featured on popular design blogs such as Print and Pattern, Inside Out and Apartment Therapy, and in printed publications such as Uppercase, Babiekins and Frankie Magazine.â??â??
Clever Publishing was founded in 2010 with the purpose of changing children's lives for the better. We create a world full of fascinating experiences for families through our books, games, sets, and series. Focusing on Pre-school and Edutainment, we've developed a wide range of innovative formats with modern teaching techniques. Kids love to read, touch, and play while learning, so our program includes products for all ages, including box sets; board books; puzzle books; learning flash cards; interactive coloring, activity, and word play formats; and boards games for the entire family. Our dream team - more than 100 employees worldwide - have a comprehensive understanding and knowledge of children's books. With this expertise, we present products that are fun, entertaining, and vibrant. We are modern and educational and strive to always emphasize the importance of first experiences. We connect to the needs of busy parents and aim to enrich the time spent with their children. Our goal is to make children - as well as their parents happy!