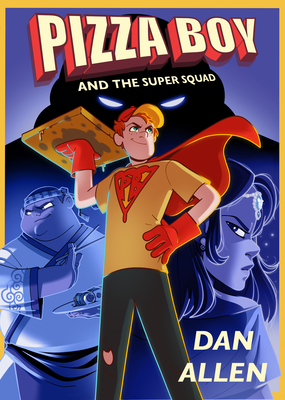 Pizza Boy and the Super Squad
Paperback

* Individual store prices may vary.
Description
It's PB versus J in the greatest food fight in American history.

For Peter Barnes's whole life, all of Surly has pushed him and Jaylee "J" together to make Surly's favorite pair: PB&J. But all manner of sticky villainy explodes when Peter decides he's done being the town poster boy.

With J looking for some serious payback, it is the perfect chance for work-from-home criminal mastermind Soccer Mom to finally make her move. With the town's beloved J as her secret weapon, Soccer Mom begins a covert war in the underworld of Surly. Soon J and Peter are caught up in a war of espionage and food conspiracy that leads to epic dance battles, crazy car chases, and mysterious food poisonings.

With the help of a squad of misfits, Peter takes up the mantle of Pizza Boy. Now it's up to Pizza Boy and the Super Squad to stop Soccer Mom and her criminal underworld before everything in Surly is under her control.
Future House Publishing, 9781950020058, 300pp.
Publication Date: March 2, 2021
About the Author
After fifteen years in the science lab designing lasers, nanoparticles, and smartphone sensors, author Dan Allen roared onto the writing scene in 2017 with the fantasy epic Fall of the Dragon Prince and sequel Blade of Toran. At home in the Rocky Mountains, Dan is CFO (chief fun officer) of his family and enjoys cosplay, escape rooms, game design, and general science mayhem. You can keep up with Dan's latest fantasy and sci-fi on his website authordanallen.com, where you can also send him random science questions.