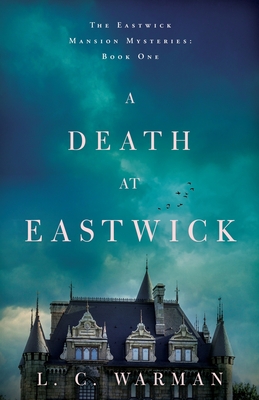 A Death at Eastwick
Paperback

* Individual store prices may vary.
Description
When John Eastwick Jr.'s father dies, he finds out about one family secret that will change his life forever. But a murder the night of the memorial service raises the question--what else was his beloved father hiding?
***
21-year-old John Eastwick Jr. has lived a charmed and cozy life. The sole heir of the Eastwick family fortune, John is on the cusp of graduating from the renowned Montvale University out east before returning home to run his family business. But in late fall of his final year, John's father dies of heart failure. Days later, his father is named as one of the disgraced moguls who bribed John's way into his prestigious college.
Kicked out of school, John returns home to his distraught mother at their lakeside mansion to bury his father. There, John's world continues to crumble beneath his feet: the will that the family lawyer reads bears no resemblance to the last version that the late John Eastwick Sr. created. In fact, John Eastwick Sr. has divided his estate not only between his son and wife, but the family chef, their loyal lawyer, his young secretary, and his estranged brother.
John wonders, is his father trying to atone for past mistakes--and what other secrets might he be keeping?
But that night, after the reading of the will, one among the group is murdered. And John Eastwick Jr. must not only piece together who the threat is, but also face what else his beloved father might have been hiding.
A DEATH AT EASTWICK is the first novel in the mystery trilogy "The Eastwick Mansion Mysteries." Each novel in the trilogy is a complete standalone, featuring a different story taking place in the Eastwick mansion in St. Clair. The complete trilogy includes:
A DEATH AT EASTWICK (Book 1)
A SCANDAL AT EASTWICK (Book 2)
A BETRAYAL AT EASTWICK (Book 3)
Praise for L.C. Warman's works:
"Captivating" -Kirkus Reviews
"An intriguing blend of realism and reflection, unsettling discoveries and natural consequences" -Foreword Reviews
A BookBub Featured New Release
About
L.C. Warman is the author of the St. Clair mystery series. She grew up in New England, in a town where real estate contracts stipulated that you couldn't back out if you discovered your new place was haunted. She currently lives in a Michigan lakeside town with her husband and two dogs.
Greenleaf & Plympton LLC, 9781950103157, 254pp.
Publication Date: August 26, 2019