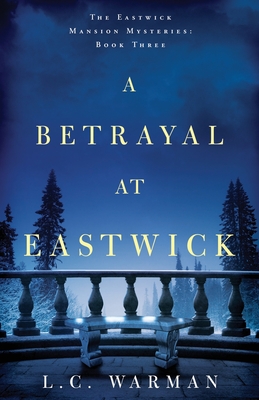 A Betrayal at Eastwick
Paperback

* Individual store prices may vary.
Description
When a scheming socialite is murdered at his company launch party, ex-footballer Daniel Becker must find out the truth--even if it means implicating himself.
***
After leaving his football career in disgrace, Daniel "Becks" Becker is finally ready to start a new chapter, opening a financial services firm with his high school friend. Never mind that his mind hasn't been quite right over the past few months, ever since that infamous tackle (the one he swears he didn't mean to make) that started all of the rumors about whether his head was right. Becks knows that one slip-up at the firm's opening party could mean the flight of any investors the firm so desperately needs, and the end of all of Becks' hopes to still provide a living for his wife and their future family.
At the party, Becks does his best to make his way through. He speaks with old footballer friends who seem to have their own secrets. He listens to his friend and new partner give a speech about the future, only to be interrupted by a drunk socialite hinting at secrets of her own and spewing insults at his wife. When his head finally hurts too much, Becks walks off for a nap and wakes up to the presence of a sly journalist prodding him with questions.
But while they're talking, someone raises the alarm--the socialite has been murdered.
Now, Becks must piece together what happened that night, and figure out who he can trust. Because at the party, everyone seems to be hiding something--and Becks starts to wonder what he has been hiding from himself.
A BETRAYAL AT EASTWICK is the third novel in the mystery trilogy "The Eastwick Mansion Mysteries." Each novel in the trilogy is a complete standalone, featuring a different story taking place in the Eastwick mansion in St. Clair. The complete trilogy includes:
A DEATH AT EASTWICK (Book 1)
A SCANDAL AT EASTWICK (Book 2)
A BETRAYAL AT EASTWICK (Book 3)
Praise for L.C. Warman's works:
"Captivating" -Kirkus Reviews
"An intriguing blend of realism and reflection, unsettling discoveries and natural consequences" -Foreword Reviews
About
L.C. Warman is the author of the St. Clair mystery series. She grew up in New England, in a town where real estate contracts stipulated that you couldn't back out if you discovered your new place was haunted. She currently lives in a Michigan lakeside town with her husband and two dogs.
Greenleaf & Plympton LLC, 9781950103195, 236pp.
Publication Date: March 17, 2020