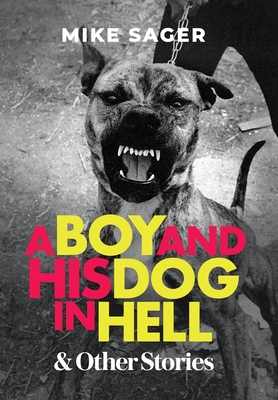 A Boy and His Dog in Hell
And Other True Stories
Hardcover

* Individual store prices may vary.
Other Editions of This Title:
Paperback (6/27/2021)
Description
Mike Sager has made a career "finding the quotidian within the extreme, the tender amid the grotesque," according to author and popular Columbia Journalism School professor Sam Freedman.
A Boy and His Dog in Hell collects 19 stories that Sager-a best-selling author and veteran of the Washington Post, Rolling Stone, and Esquire-calls "my milestones, the pieces that have defined and distinguished my work over forty-some years of journalism-adventures, high jinks, near-death moments, and wrenching intimate encounters that have helped to shape me as a writer and as a man."
With Sager on point, the reader is taken on a journey through an America few people ever see, safe as they are within the borders of their own colorful squares in the patchwork quilt of diverse cultures, communities, and circumstances that make our nation.
We meet: A pair of middle-school-age dropouts, brothers, living in the ruins of Northern Philadelphia, working shifts on the corner selling cocaine and spending their time off fighting stolen pit bulldogs to the death. The members of a once-proud street gang who've lost their fortunes in a cloud of crack smoke. A seven-foot-six-inch, Sudanese-born basketball player-the first time he attempted a dunk, he broke his front teeth on the rim. He went on to become one of the greatest shot-blockers in the history of the National Basketball Association.
We spend time with blue-collar tweakers in Hawaii; Aryan Nation troopers in Idaho; and near-fatally hip heroin addicts on the Lower East Side of Manhattan. We meet the Reverend Al Sharpton at a time, early in his career, when this important civil rights figure was vilified and feared by many people of all races. A road trip across the country brings Sager eyeball to eyeball with a number of America's smartest men (and one woman). Life, it turns out, can be just as challenging on either end of the bell curve.
We attend the ten-night "Superbowl of Rodeo" in Las Vegas with the world's winningest professional cowboy, a deep dive into red-state values and the American Western Ideal. We meet Charlie Van Dyke, 650 pounds, a fat man in a no-fat world, and Bill Hicks, a comedic genius destined for mainstream stardom until tragedy struck. And we spend seven days with NBA lightning rod Kobe Bryant, who lifted the craft of basketball into compelling art . . . and so beautifully made the tricky transition to the next chapter . . . before leaving the earth suddenly and way too soon.
Also included: six feature stories written during Sager's early years at the Washington Post, where he began his career as a copy boy in 1978. He has since completed assignments in six subsequent decades.
Sager Group LLC, 9781950154371, 358pp.
Publication Date: June 19, 2021