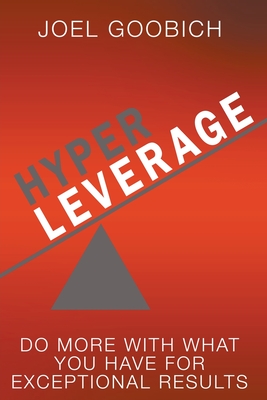 HyperLeverage
Do More With What You Have For Exceptional Results
Paperback

* Individual store prices may vary.
Description
"Joel understands how to create a strategic vision for business innovation and value. I've watched him take companies to the next level." -- Dana Conover, former Director of Marketing & Innovation, Elmer's Products
In HyperLeverage: Do More With What You Have For Exceptional Results, Joel Goobich, an accomplished entrepreneur, executive and management consultant, shows you how to create HyperLeverage by establishing a mindset and culture that allows your company to proactively, intentionally and systematically capitalize on internal and external assets, resources and opportunities in order to create added-value and realize optimal returns.
After reading this book, leverage won't be something your company just thinks about occasionally or stumbles upon by chance. Instead, you will understand how to turn leverage into HyperLeverage. Goobich will show you how to:
Unlock enormous growth and revenue from existing assets and resources through the active and intentional pursuit of leverage and the achievement of HyperLeverage.

Maximize your 4 Ps - people, planning, performance and progress - by utilizing Joel's simple, 4-step "DOIT" leverage method.

Employ a Leverage Prism to deconstruct business issues more effectively and efficiently in order to unearth and unleash hidden potential within your organization.

Take transformative actions armed with a cohesive, informed plan to achieve exceptional results, innovation and growth.

Develop a corporate culture driven by a Leverage Mindset, which will empower your people to uncover and exploit "hidden gems" for exponential outcomes.
Want to start getting superior results from what you already have? Read HyperLeverage: How to Get More From What You Have for Exceptional Results and learn how to work smarter, gain control over your business growth, and achieve superior results.
Bublish, Inc., 9781950282869, 328pp.
Publication Date: January 7, 2020